Chemical Warrior: Syria, Salisbury and Saving Lives at War - As heard on Radio 2 (Paperback)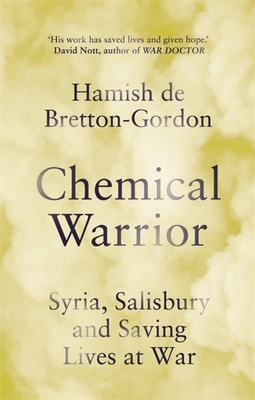 $17.99
Email or call for price
Description
---
GRIPPING, MOVING AND INSPIRING: the remarkable life of a world-leading expert in chemical weapons defence.

"Unlike any account of warfare I've read" - Billy Billingham

For thirty years, Hamish has served and volunteered in conflict zones around the world. As the army's foremost chemical weapons expert, he built a unique first-hand understanding of how to prevent attacks and train doctors on the frontline - saving countless lives in the process.

After suffering near-death experiences time and again, Hamish discovered he had a ticking time bomb in his own chest: a heart condition called Sudden Death Syndrome that could kill him at any time. But with a new awareness for the fragility of life, he fought harder to make his count.

Despite facing extraordinary personal danger, Hamish has unearthed evidence of multiple chemical attacks in Syria and continues to advise the government at the highest level, including after the 2018 Novichok poisoning in Salisbury. Lifting the lid on Hamish's unique world of battlefield expertise and humanitarian work, Chemical Warrior is a thrilling story of bravery and compassion.
About the Author
---
Hamish de Bretton-Gordon OBE (born 1963), is one of the world's leading experts on chemical and biological counter-terrorism and warfare. During his 23 year career in the British Army, he served as Commanding Officer of the UK's Joint Chemical, Biological, Radiological and Nuclear Regiment and NATO's Rapid Reaction CBRN Battalion. He is co-founder and director of Doctors Under Fire with Professor David Nott, where he helps civilians with the threat from chemical weapons, and advises the UK Government at the highest level on CBRN - including the recent Novichok poisoning in Salisbury. He frequently appears in global media as an expert commentator, has several academic posts, and in 1991 he briefly held the world press-up record.
Praise For…
---
A gripping account—Daily Mail

A gripping account—Daily Mail

A fascinating memoir—Salisbury Journal

A fascinating memoir—Salisbury Journal

Gripping—Daily Express

Gripping—Daily Express

A page-turning read, full of urgent questions, from one of the world's finest chemical and biological weapons experts. Compelling and unforgettable.—John Simpson

A page-turning read, full of urgent questions, from one of the world's finest chemical and biological weapons experts. Compelling and unforgettable.—John Simpson

Hamish de Bretton-Gordon has been one of my closest comrades on the front line. Completely fearless, he is one of the leading chemical weapons expert on the globe. His training has saved lives and given hope.—Professor David Nott, bestselling author of WAR DOCTOR

Hamish de Bretton-Gordon has been one of my closest comrades on the front line. Completely fearless, he is one of the leading chemical weapons expert on the globe. His training has saved lives and given hope.—Professor David Nott, bestselling author of WAR DOCTOR

A career at the cutting edge of Britain's chemical weapons defence has bequeathed Hamish a deep and heartfelt mission for protecting the innocent victims of such heinous crimes. The risks he has taken to do so are legion, his commitment beyond belief, his inspiration truly humbling. One of my heroes, a word I do not use lightly.—Damien Lewis, bestselling author of APACHE DAWN

A career at the cutting edge of Britain's chemical weapons defence has bequeathed Hamish a deep and heartfelt mission for protecting the innocent victims of such heinous crimes. The risks he has taken to do so are legion, his commitment beyond belief, his inspiration truly humbling. One of my heroes, a word I do not use lightly.—Damien Lewis, bestselling author of APACHE DAWN

This book is where theory meets reality. DBG is one of only a handful of highly experienced practitioners in this field. Of course, the science matters - but its application is what requires our full and undivided attention. DBG shines a light into that dark corner.—Sir Graeme Lamb, former director of UK Special Forces

This book is where theory meets reality. DBG is one of only a handful of highly experienced practitioners in this field. Of course, the science matters - but its application is what requires our full and undivided attention. DBG shines a light into that dark corner.—Sir Graeme Lamb, former director of UK Special Forces

The international community has generally ignored the plight of the Syrian people, but there are a few bright lights and Hamish is one of the brightest. He is a brilliant humanitarian activist.—Dr Ghanem Tayara, Syrian doctor

The international community has generally ignored the plight of the Syrian people, but there are a few bright lights and Hamish is one of the brightest. He is a brilliant humanitarian activist.—Dr Ghanem Tayara, Syrian doctor

Hamish's incredible life story is unlike any account of warfare I've read. His courage on the front line and drive to make a difference in the world is truly inspiring.—Billy Billingham, 'SAS: Who Dares Wins'

Hamish's incredible life story is unlike any account of warfare I've read. His courage on the front line and drive to make a difference in the world is truly inspiring.—Billy Billingham, 'SAS: Who Dares Wins'

Hamish de Bretton-Gordon is an outstanding humanitarian who has fought for justice and accountability for Syrians. He is one of the few heroes in a story of evil, misery and law breaking.—Andrew Mitchell MP

Hamish de Bretton-Gordon is an outstanding humanitarian who has fought for justice and accountability for Syrians. He is one of the few heroes in a story of evil, misery and law breaking.—Andrew Mitchell MP

Hamish de Bretton-Gordon's autobiography starts like the opening of a high-octane film—The New European

Hamish de Bretton-Gordon's autobiography starts like the opening of a high-octane film—The New European

It is a remarkable story of rising above a truly terrifying experience and making a genuine difference in the world... DBG's writing is clear and enjoyable, making the book a pleasure to read—History of War

It is a remarkable story of rising above a truly terrifying experience and making a genuine difference in the world... DBG's writing is clear and enjoyable, making the book a pleasure to read—History of War

Chemical Warrior reads as a fast-paced thriller, each derring-do tale worthy of a book in itself.—Wiltshire Life

Chemical Warrior reads as a fast-paced thriller, each derring-do tale worthy of a book in itself.—Wiltshire Life