The Steady Running of the Hour: A Novel (Hardcover)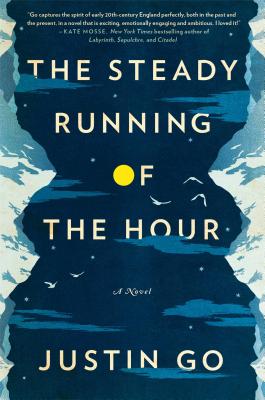 $26.00
Email or call for price
Description
---
In this mesmerizing debut, a young American discovers he may be heir to the unclaimed estate of an English World War I officer, which launches him on a quest across Europe to uncover the elusive truth.

A QUEST NOVEL and a historical tour de force, The Steady Running of the Hour unravels a tale of passion, legacy, and courage reaching across the twentieth century.

In 1924, the English mountaineer Ashley Walsingham dies attempting to summit Mount Everest, leaving his fortune to his former lover, Imogen Soames-Andersson—whom he has not seen in seven years. Ashley's solicitors search in vain for Imogen, but the estate remains unclaimed.

Nearly eighty years later, new information leads the same law firm to Tristan Campbell, a young American who could be the estate's rightful heir. If Tristan can prove he is Imogen's descendant, the inheritance will be his. But with only weeks before Ashley's trust expires, Tristan must hurry to find the evidence he needs.

From London archives to Somme battlefields to the Eastfjords of Iceland, Tristan races to piece together the story behind the unclaimed riches: a reckless love affair pursued only days before Ashley's deployment to the Western Front; a desperate trench battle fought by soldiers whose hope is survival rather than victory; an expedition to the uncharted heights of the world's tallest mountain. Following a trail of evidence that stretches to the far edge of Europe, Tristan becomes consumed by Ashley and Imogen's story. But as he draws close to the truth, Tristan realizes he may be seeking something more than an unclaimed fortune.

The Steady Running of the Hour announces the arrival of a stunningly talented author. Justin Go's novel is heartrending, transporting, and utterly compelling.
About the Author
---
Justin Go attended the University of California at Berkeley, where he graduated with a BA in history and art history. He also holds an MA in English from University College London. He has lived in Tokyo, Paris, London, New York City, and Berlin. He is currently at work on his second novel.
Praise For…
---
"Justin Go has written an astonishingly vast, meticulously plotted, and beautifully told novel. In elegant, haunting prose he tells a wartime story that is at once violent and lovely, hopeful and despairing. I won't soon forget Go's passionate, star-crossed lovers and their deeply moving story, set against the riveting, utterly realistic backdrop of the Great War."
— Anton DiSclafani

"A wonderful time-slip story, beautifully written with a superb sense of place. Go captures the spirit of early 20th-century England perfectly, both in the past and the present, in a novel that is exciting, emotionally engaging and ambitious. I loved it!"
— Kate Mosse

"Ambitious…this is a remarkable work."
— Booklist

"Go's debut is ambitious in many ways...it depicts a love that transcends time and disdains convention; and it fluidly moves between past and present."

"Go's intriguing first novel spans the 20th century… with vivid accounts of wartime France, pioneering mountaineering expeditions, and an isolated village in Iceland."
— BBC.com

"With this debut, Justin Go deploys the elements of a caper –an unclaimed fortune, an illicit affair—in an assured literary thriller."—Wall Street Journal Magazine

"Gifted storyteller Go captures a period feel…This story is a page-turner and an impressive first work, sure to be appreciated by fans of historical and travel fiction."—Library Journal

"Poetic, epic, expansive, bloody with the battlefields of the war, and crisp and daunting with the peaks of Everest. Sweet and haunting, The Steady Running of The Hour captures the disconnection of our modern world as Tristan navigates the streets and bars of European cities and in the process perhaps meets a love of his own."
—Interview Magazine

"The plot, with its combination of world war, doomed romance and exotic locations, seems designed to catch the attention of Hollywood producers in search of another 'English Patient.' And, indeed, Go's strengths lie in his screenplay-ready dialogue, which feels both naturalistic and specific to time and place. He is a particularly keen chronicler of altered states and the skewed insights that come to the sleep-deprived, jetlagged or hungover. The depiction of Ashley's war experience is particularly unsparing and evocative."
—The Washington Post