The Seamstress of New Orleans: A Fascinating Novel of Southern Historical Fiction (Paperback)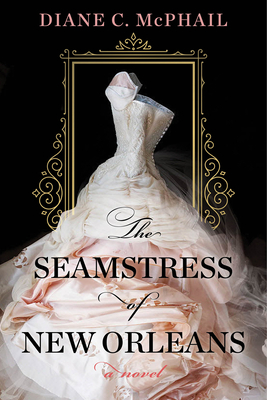 Description
---
Set against the backdrop of the first all-female Mardi Gras krewe at the turn-of-the-century, the acclaimed author's mesmerizing historical novel tells of two strangers separated by background but bound by an unexpected secret—and of the strength and courage women draw from and inspire in each other.

"An undercurrent of New Orleans's dark side propels the story, heightening the tension and supplying McPhail with a wealth of evocative details." —Publishers Weekly

1900: Though the dawn of a new century promises social progress, there are few options for women like Alice Butterworth, pregnant and abandoned by her husband. In desperation, Alice leaves Chicago's bitter cold and travels to New Orleans, where she offers sewing lessons at an orphanage.

Young widow Constance Halstead has thrown herself into charity work since her husband's death. Seeing Alice's skill, she offers lodging in exchange for help creating a gown for the Leap Year ball of Les Mysterieuses, the first all-female krewe of Mardi Gras. Leap Years offer women a rare opportunity—to turn the tables on men, upending convention. As the breathtaking gown takes shape piece by piece, it becomes a symbol of empowerment for them both.

But overshadowing all is the Black Hand—the vicious New Orleans gang to whom Constance's husband was deep in debt. His death hasn't satisfied them. And as Mardi Gras draws near, a secret emerges that will cement the bond between Alice and Constance, even as it threatens the new lives each is building . . .
About the Author
---
Diane C. McPhail is an artist, minister, and acclaimed author of The Abolitionist's Daughter and The Seamstress of New Orleans. A graduate of Ole Miss, Duke Writers, University of Iowa Distance, and the Yale Writers' Conference, she is a member of NC Writers Network and the Historical Novel Society. She lives in Highlands, North Carolina with her husband and dog. For more information, please visit Diane online at DianeMcPhailAuthor.com.
Praise For…
---
Praise for The Seamstress of New Orleans
 
"McPhail entices with the story of two women from different backgrounds who discover common ground in turn of the 20th-century New Orleans…An undercurrent of New Orleans's dark side propels the story, heightening the tension and supplying McPhail with a wealth of evocative details. Historical fiction fans will be drawn to this." —Publishers Weekly
 
"From the captivating first line, The Seamstress of New Orleans transports the reader to the mystery and sultry magic of New
Orleans. With McPhail's acclaimed and atmospheric prose, The Seamstress of New Orleans is a tale of well-guarded secrets, societal bonds that must be broken, and women's powerful resilience. A powerful and fascinating story." —Patti Callahan, New York Times bestselling author of Surviving Savannah
 
"In a time and place when women were relegated to the home, these New Orleans ladies set about crafting their own future. Story threads of missing husbands, menacing gamblers, and a society on the cusp of changing women's rights weave together to form a riveting tale. The history of the first all female krewe was so captivating that it sent me to do some googling for extra information. McPhail has stitched an impressive work of historical fiction that will fuel plenty of bookclub discussions." —Pamela Klinger-Horn, Valley Bookseller (Stillwater, MN)
 
"Reading this novel is like dining on a creole dish: rich, mysterious and oh so satisfying." —Fran Ziegler, Titcomb's Bookshop (East Sandwich, MA)
 
"McPhail has created a novel that is at once a mystery and a novel of feminine friendship and empowerment. She reminds the reader of how constricted life for women at the turn of the century was, and she illustrates this with two very different characters…The Seamstress of New Orleans leaves you wanting more of New Orleans, a place that is saturated with history. It is a perfect summer book to sit back with a glass of sweet tea and enjoy." —New York Journal of Books