The Art of Dying Well: A Practical Guide to a Good End of Life (Hardcover)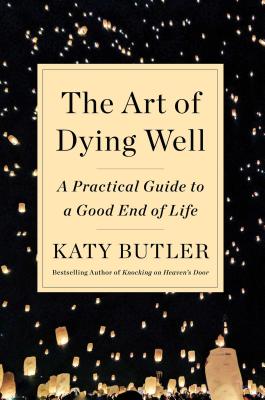 $26.00
Email or call for price
Description
---
A reassuring and thoroughly researched guide to maintaining a high quality of life—from resilient old age to the first inklings of a serious illness to the final breath—by the New York Times bestselling author of Knocking on Heaven's Door.

The Art of Dying Well is about living as well as possible for as long as possible and adapting successfully to change. Packed with extraordinarily helpful insights and inspiring true stories, award-winning journalist and prominent end-of-life speaker Katy Butler shows how to thrive in later life (even when coping with a chronic medical condition), how to get the best from our health system, and how to make your own "good death" more likely. This handbook of step by step preparations—practical, communal, physical, and sometimes spiritual—will help you make the most of your remaining time, be it decades, years, or months.

Butler explains how to successfully age in place, why to pick a younger doctor and how to have an honest conversation with her, when not to call 911, and how to make your death a sacred rite of passage rather than a medical event.

This down-to-earth manual for living, aging, and dying with meaning and even joy is based on Butler's own experience caring for aging parents, as well as hundreds of interviews with people who have successfully navigated a fragmented health system and helped their loved ones have good deaths. It also draws on interviews with nationally recognized experts in family medicine, palliative care, geriatrics, oncology, hospice, and other medical specialties. Inspired by the medieval death manual Ars Moriendi, or the Art of Dying, The Art of Dying Well is the definitive update for our modern age, and illuminates the path to a better end of life.
About the Author
---
Katy Butler's articles have appeared in The New York Times Magazine, The Best American Science Writing, and The Best American Essays. A finalist for a National Magazine Award, she lives in Northern California. She is the author of Knocking on Heaven's Door and The Art of Dying Well.
Praise For…
---
"Butler's factual, no-nonsense tone is surprisingly comforting, as are her stories of how ordinary folks confronted difficult medical decisions… Her thoughtful book belongs on the same shelf as Atul Gawande's best-selling Being Mortal and Barbara Ehrenreich's Natural Causes."
—The Washington Post

"A better roadmap to the end… combines medical, practical, and spiritual guidance."
—Kate Tuttle, The Boston Globe

"A commonsense path to define what a 'good' death looks like."
—USA Today

"An empowering guide that clearly outlines the steps necessary to avoid a chaotic end in an emergency room and to prepare for a beautiful death without fear."
—Shelf Awareness

"Straightforward, well-organized, nondepressing… Free of platitudes, Butler's voice makes the most intimidating of processes—that of dying—come across as approachable. Her reasonable, down-to-earth tone makes for an effective preparatory guide."
—Publishers Weekly

"This book is filled with deep knowledge and many interesting experiences. It is a guide for staying as healthy and happy as possible while aging, and also shows how important it is to be medically informed and know our rights in the communities where we live, in order to stay in charge of our lives and therefore less afraid of the future. Katy Butler has written a very honest book. I just wish I had read it ten years ago. You can do it now!"
—Margareta Magnusson, author of The Gentle Art of Swedish Death Cleaning

"The Art of Dying Well is a guide to just that: how to face the inevitable in an artful way. Katy Butler has clear eyes and speaks plainly about complicated decisions. This book is chock-full of good ideas."
—Sallie Tisdale, author of Advice for Future Corpses

"In plain English and with plenty of true stories to illustrate her advice, Katy Butler provides a brilliant map for living well through old age and getting from the health system what you want and need, while avoiding what you don't. Armed with this superb book, you can take back control of how you live before you die."
—Diane E. Meier, MD, Director, Center to Advance Palliative Care

"No, you won't survive your death, but you can live until the very last moment without the pain and humiliation that inevitably accompany an over-medicalized dying process. Katy Butler shows how, and I am profoundly grateful to her for doing so."
—Barbara Ehrenreich, author of Natural Causes

"This is a book to devour, discuss, dog-ear, and then revisit as the years pass. Covering matters medical, practical, financial and spiritual – and, beautifully, their intersection – Katy Butler gives wise counsel for the final decades of our 'wild and precious' lives. A crucial addition to the bookshelves of those seeking agency, comfort and meaning, The Art of Dying Well is not only about dying. It's about living intentionally and in community."
—Lucy Kalanithi, MD, FACP, Clinical Assistant Professor of Medicine, Stanford School of Medicine

"The Art of Dying Well is the best guidebook I know of for navigating the later stages of life. Katy Butler's counsel is simple and practical, but the impact of this book is profound. A remarkable feat."
—Ira Byock, MD, author of Dying Well and The Best Care Possible, Active Emeritus Professor of Medicine, the Geisel School of Medicine at Dartmouth

Praise for Katy Butler and Knocking on Heaven's Door

"This is a book so honest, so insightful and so achingly beautiful that its poetic essence transcends even the anguished story that it tells. Katy Butler's perceptive intellect has probed deeply, and seen into the many troubling aspects of our nation's inability to deal with the reality of dying in the 21st century: emotional, spiritual, medical, financial, social, historical and even political. And yet, though such valuable insights are presented with a journalist's clear eye, they are so skillfully woven into the narrative of her beloved parents' deaths that every sentence seems to come from the very wellspring of the human spirit that is in her."
— Dr. Sherwin B. Nuland, author of How We Die: Reflections of Life's Final Chapter

"Knocking on Heaven's Door is a thoroughly researched and compelling mix of personal narrative and hard-nosed reporting that captures just how flawed care at the end of life has become."
— Abraham Verghese

"This is some of the most important material I have read in years, and so beautifully written. It is riveting, and even with parents long gone, I found it very hard to put down. ... I am deeply grateful for its truth, wisdom, and gorgeous stories—some heartbreaking, some life-giving, some both at the same time. Butler is an amazing and generous writer. This book will change you, and, I hope, our society."
— Anne Lamott

"Shimmer[s] with grace, lucid intelligence, and solace."
— Lindsey Crittenden

"[A] deeply felt book...[Butler] is both thoughtful and passionate about the hard questions she raises — questions that most of us will at some point have to consider. Given our rapidly aging population, the timing of this tough and important book could not be better."
— Laurie Hertzel

"This braid of a book...examines the battle between death and the imperatives of modern medicine. Impeccably reported, Knocking on Heaven's Door grapples with how we need to protect our loved ones and ourselves."
— More Magazine

"A forthright memoir on illness and investigation of how to improve end-of-life scenarios. With candidness and reverence, Butler examines one of the most challenging questions a child may face: how to let a parent die with dignity and integrity. Honest and compassionate..."
— Kirkus Reviews

"Katy Butler's science background and her gift for metaphor make her a wonderfully engaging storyteller, even as she depicts one of our saddest but most common experiences: that of a slow death in an American hospital. Knocking on Heaven's Door is a terrible, beautiful book that offers the information we need to navigate the complicated world of procedure and technology-driven health care."
— Mary Pipher

"Katy Butler's new book—brave, frank, poignant, and loving—will encourage the conversation we, as a society, desperately need to have about better ways of dying. From her own closely-examined personal experience, she fearlessly poses the difficult questions that sooner or later will face us all."
— Adam Hochschild

"This is the most important book you and I can read. It is not just about dying, it is about life, our political and medical system, and how to face and address the profound ethical and personal issues that we encounter as we care for those facing dying and death. [This book's] tenderness, beauty, and heart-breaking honesty matches the stunning data on dying in the West. A splendid and compassionate endeavor."
— Joan Halifax, PhD, Founding Abbot, Upaya Institute/Zen Center and Director, Project on Being with Dying: Cultivating Compassion and Fearlessness in the Presence of Death

"This beautifully written and well researched book will take you deep into the unexplored heart of aging and medical care in America today. With courage, unrelenting honesty, and deepest compassion, ... Knocking on Heaven's Door makes it clear that until care of the soul, families, and communities become central to our medical approaches, true quality of care for elders will not be achieved."
— Dennis McCullough

"Butler's advice is neither formulaic nor derived from pamphlets...[it] is useful, and her challenge of our culture of denial about death necessary...Knocking on Heaven's Door [is] a book those caring for dying parents will want to read and reread. [It] will help those many of us who have tended or will tend dying parents to accept the beauty of our imperfect caregiving."
— Suzanne Koven

"Knocking on Heaven's Door is more than just a guide to dying, or a personal story of a difficult death: It is a lyrical meditation on death written with extraordinary beauty and sensitivity."
— San Francisco Chronicle

"[Knocking on Heaven's Door is] a triumph, distinguished by the beauty of Ms. Butler's prose and her saber-sharp indictment of certain medical habits. [Butler offers an] articulate challenge to the medical profession: to reconsider its reflexive postponement of death long after lifesaving acts cease to be anything but pure brutality."
— Abigail Zuger, MD