The Problem of Susan and Other Stories (Hardcover)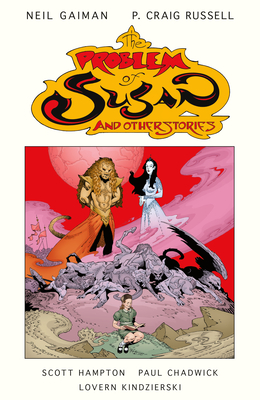 Description
---
From Hugo, Eisner, Newbery, Harvey, Bram Stoker, Locus, World Fantasy, and Nebula award-winning author Neil Gaiman and P. Craig Russell (The Sandman, The Giver), Scott Hampton (American Gods), and Paul Chadwick (Concrete) comes a graphic novel adaptations of the short stories and poems : The Problem of Susan, October in the Chair, Locks, and The Day the Saucers Came.

Two stories and two poems. All wondrous and imaginative about the tales we tell and experience. Where the incarnations of the months of the year sit around a campfire sharing stories, where an older college professor recounts a Narnian childhood, where the apocalypse unfolds, and where the importance of generational storytelling is seen through the Goldilocks fairytale. These four comic adaptations have something for everyone and are a must for Gaiman fans!
About the Author
---
Neil Gaiman was born in Hampshire, UK, and now lives in the United States near Minneapolis. As a child he discovered his love of books, reading, and stories, devouring the works of C. S. Lewis, J. R. R. Tolkien, James Branch Cabell, Edgar Allan Poe, Michael Moorcock, Ursula K. Le Guin, Gene Wolfe, and G. K. Chesterton. A self-described "feral child who was raised in libraries," Gaiman credits librarians with fostering a lifelong love of reading: "I wouldn't be who I am without libraries. I was the sort of kid who devoured books, and my happiest times as a boy were when I persuaded my parents to drop me off in the local library on their way to work, and I spent the day there. I discovered that librarians actually want to help you: They taught me about interlibrary loans."

Neil Gaiman's work has been honored with many awards internationally, including the Newbery and Carnegie Medals. His books and stories have also been honored with four Hugos, two Nebulas, one World Fantasy Award, four Bram Stoker Awards, six Locus Awards, two British Science Fiction Association Awards, one British Fantasy Award, three Geffens, one International Horror Guild Award, and two Mythopoeic Awards.