If You Give a Lab a Lab: Barking Bad (A Breaking Bad Parody) (Addicted Animals) (Paperback)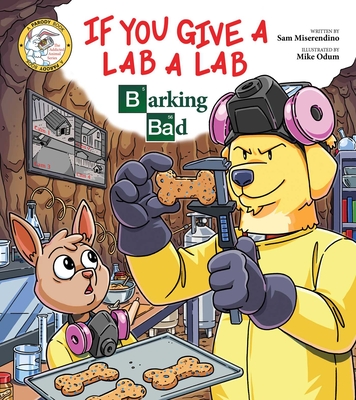 Other Books in Series
Description
---
The Fifth Installment of the Addicted Animal series—a parody of the hit show Breaking Bad. The crossover you didn't know you needed.

If You Give A Lab A Lab: Barking Bad is a gritty, yet adorable story about a Labrador Retriever who rises from lovable family pet to ruthless dog-treat kingpin after he creates a special blue biscuit that hooks the neighborhood dogs. A gripping tale of power, deception, and chew toys, this fifth book in the Addicted Animal Series takes an unflinching look at what happens when a "good boy" goes bad.
About the Author
---
Sam Miserendino is an attorney by day, author by night, and father 24/7. It was in this latter role that Sam was inspired to write about beer-drinking bunnies and bong-smoking bears. After reading books about carb-addicted moose, mice, and pigs to his son and daughter for the millionth time, Sam's thoughts drifted to other animals with other addictions. Sam lives in Buffalo, New York, with his wife, two children, two dogs, and two cats, none of whom, he is happy to report, are addicted to anything more serious than chew toys, catnip, and television.
 
Mike Odum is a former bartender so he has extensive experience with inebriated mammals. Mike's observation of bar fauna informed his skillful renderings in If You Give A Bunny A Beer and If You Give A Bear A Bong. When not drawing drunk bunnies and stoned bears, Mike develops games for ROOT 76—a game company he co-founded. Mike lives in Richmond, Virginia, with his wife and two-year-old daughter, who enjoys sneaking into his studio and adding her own touches to his work.
Praise For…
---
"The creepy cuteness of Marmaduke and Family Circus is sure turned on its head here! Just add Animal Farm." —Jello Biafra