What to Expect: Eating Well When You're Expecting, 2nd Edition (Paperback)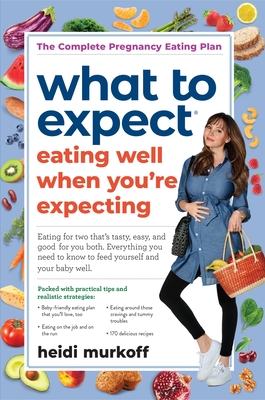 List Price: $17.99
Our Price: $16.95
(Save: $1.04 6%)
Description
---
Eat well––for two!
 
"Once again, What to Expect Delivers! Heidi's go-to guide takes the guesswork out of feeding yourself and your baby, serving up a healthy and realistic plan to fit every lifestyle and eating style. It's eating for two made easy, fun… and delicious."––Joy Bauer, MS, RD, CDN, best-selling author, host of NBC'S Health and Happiness, and nutrition expert for the Today show
 
This brand new edition of America's pregnancy food bible covers it all through those nine months of baby-making and beyond: the latest facts on superfoods, food trends, food safety. Foods to chow down on, foods (and drinks) to limit, and those to cut out altogether. Realistic, body-positive advice and savvy strategies on how to eat well when you're too green to come face-to-fork with broccoli. Or too bloated to eat at all. Or on the run. Or on the job. Whether you're a red-meat eater or a vegan, a carb craver or a gluten-free girl, a fast-foodie or a slow cooker. Whether you're hungry for nutritional facts (which vitamins and minerals the pregnant body needs and where to find them), or just plain hungry. Plus, how to put it all together, easily and tastily, with dozens of practical tips and 170 recipes that are as delicious as they are nutritious, as easy to love as they are to make.  
Answers to all questions:
Do I have to skip my morning latte––or afternoon energy drink?
I'm too sick to look at a salad, never mind eat one––do I have to?
How do I get enough calcium if I'm lactose intolerant?
Help! I'm entering my second trimester, and I'm losing weight, not gaining. What can I do?
I've never been a big water drinker, and now I'm supposed to down 10 8-ounce glasses a day! How?
Turns out it's twins––do I have to eat twice as much?
About the Author
---
Heidi Murkoff is the author of the world's bestselling What to Expect® series of pregnancy and parenting books, with over 43 million copies in print in 44 languages.  She is also the creator of WhatToExpect.com and the WhatToExpect app, a community of 20 million parents, and the face of the app's week-by-week pregnancy and first year videos. Using the power of the WTE platforms, Heidi works closely with the CDC, HHS, AAP and other public health organizations to share vital messages about maternal and infant health and safety. Her passionate commitment to the wellbeing of all moms and babies led her to found the What to Expect Project (WTEP), a nonprofit organization dedicated to ensuring that every mom receives the empowering information and nurturing support she needs to deliver a healthy pregnancy, safe delivery, and healthy future to herself and the baby she loves. Along with the WTEP, Heidi advocates actively in Congress for legislation and policies supporting expecting and new moms and families, including military families. Since 2013, she has hosted close to 300 Special Delivery baby showers for tens of thousands of military moms and dads serving far from family and friends at bases around the world. In 2022, she and her husband Erik received the Elizabeth and Zachary Fisher Distinguished Civilian Humanitarian Award for their support of military families.

Visit Heidi on Facebook, Twitter and Instagram @HeidiMurkoff and @WhattoExpect.