A Very Gay Book: An Inaccurate Resource for Gay Scholars (Hardcover)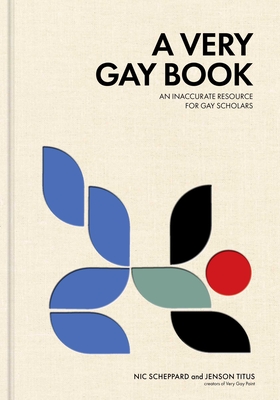 $30.00

Not in stock. Usually arrives in 2-5 Days
Description
---
From the creators of @verygaypaint, the immensely popular comedy design brand, A VERY GAY BOOK paints a cheeky and satirical portrait of the world where everything—from sports to science to soup—is gay.

Trees are gay. It's why their branches brush up against each other so softly. Right-handed people are gay because that's the first hand you use when you do the Macarena. Left-handed people are also gay. Magnets. Palindromes. All gay. A satirical textbook—including sections on history and heroes, customs and traditions—celebrating a very gay world, A Very Gay Book is an invitation to revel in the (both real and absurdly fictional) iconic successes of the LGBTQ+ community.
About the Author
---
Nicholas Scheppard and Jenson Titus are Los Angeles-based comedians who, through the use of ancient gay wizardry, have been turning walls gay with paint through their company, Very Gay Paint. 
Praise For…
---
"Who – and what – is gay? The answers will surprise and delight you." (Terri Schlichenmeyer, Washington Blade)

"A heavy dose of humor is something I've been in need of these past few weeks, and what do you know: Like a gift from the publishing gods arrives A Very Gay Book: An Inaccurate Resource for Gay Scholars, a satirical take on history in which everything is really, really gay." (Susan Felts, BookPage)

"What would the world look like if everything had gay roots? That's the kooky premise behind the hilarious and immensely entertaining new book by joint authors Jenson Titus and Nic Scheppard. The artwork is just as hilarious as the text in this friend-sharing satirical opus of all things queer (or imagined to be). This is funny fluff meant to tickle the funny bone and inspire featherweight giggles at dinner parties." (Jim Piechota, The Bay Area Reporter)

"I my own self about had an aneurysm from laughing at that. These guys are hilarious!" (Richard, Expendable Mudge Muses Aloud)