This Mortal Coil: A History of Death (Hardcover)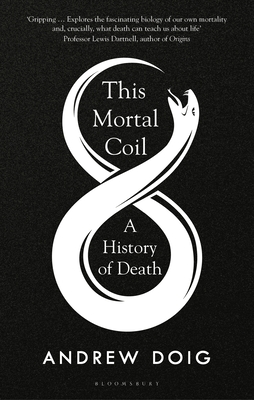 Description
---
A TIMES AND OBSERVER HIGHLIGHT FOR 2022

'An empowering story of human ingenuity' Economist

'Full of curious facts' The Times

'Gripping and fascinating' Mail on Sunday

'The obvious beauty of This Mortal Coil is that in being a history of death, it is also a history of life, and a brilliant, fascinating one at that' Scotsman
___________

Causes of death have changed irrevocably across time. In the course of a few centuries we have gone from a world where disease or violence were likely to strike anyone at any age, and where famine could be just one bad harvest away, to one where in many countries excess food is more of a problem than a lack of it. Why have the reasons we die changed so much? How is it that a century ago people died mainly from infectious disease, while today the leading causes of death in industrialised nations are heart disease and stroke? And what do changing causes of death reveal about how previous generations have lived?

University of Manchester Professor Andrew Doig provides an eye-opening portrait of death throughout history, looking at particular causes – from infectious disease to genetic disease, violence to diet – who they affected, and the people who made it possible to overcome them. Along the way we hear about the long and torturous story of the discovery of vitamin C and its role in preventing scurvy; the Irish immigrant who opened the first washhouse for the poor of Liverpool, and in so doing educated the public on the importance of cleanliness in combating disease; and the Church of England curate who, finding his new church equipped with a telephone, started the Samaritans to assist those in emotional distress.

This Mortal Coil is a thrilling story of growing medical knowledge and social organisation, of achievement and, looking to the future, of promise.
About the Author
---
Andrew Doig is Professor of Biochemistry at the University of Manchester. He studied Natural Science and Chemistry at the University of Cambridge, and Biochemistry at Stanford University Medical School. He became a lecturer in Manchester in 1994, where he has been ever since. His research is on computational biology, neuroscience, dementia, developmental biology and proteins. This Mortal Coil is his first book.
Praise For…
---
"You might expect a book on this morbid theme to be forbidding or sombre. This one is neither. Instead Mr Doig, a biochemist at the University of Manchester, tells an empowering story of human ingenuity" —Economist

"Surprisingly upbeat . . . The chapters on plague are the most interesting in the book, perhaps because they are so resonant and show how lucky we are to live in the age of the vaccine . . . Each chapter looks at a cause of death, ranging from scurvy to car safety, alcoholism to yellow fever . . . Full of curious facts . . . Although the book is about death, Doig is optimistic. Look at how life expectancy has soared across the world and infant mortality rates have plummeted" —The Times

"An absorbing read . . . A gripping and fascinating book; informative and seasoned with dry humour" —Mail on Sunday

"Told in five acts like a Shakespearean tragedy, Andrew Doig's book considers our vulnerabilities and vices, from typhoid to tobacco . . . A compelling story that is made admirably accessible" —Financial Times

"Fascinating, clear-eyed . . . Woven through are a series of brilliant anecdotes of individual experiments, inventions and lethal misfortunes . . . Doig's attention to detail, personable style and clear explanations make the book easily accessible . . . The obvious beauty of This Mortal Coil is that in being a history of death, it is also a history of life, and a brilliant, fascinating one at that" —Scotsman

"Rather than being a depressing read, the book actually gives a wonderful long-term perspective on our current situation, discussing plagues and famines of the past, living conditions and social organisation, and even looking at how causes of death might change in the future . . . This intriguing and detailed discussion of death and its causes provides a bedrock of context to look at how we might tackle mortality going forward . . . Oddly life-affirming" —Big Issue

"From the black death to small pox, Andrew Doig's This Mortal Coil reminds us that some of humankind's most miraculous innovations – including vaccines, statistics and gene sequencing – arose from society's attempts to thwart death . . . It's hard to imagine a book with more relevant insights into how societies fail and succeed when navigating threats to life" —City AM

"This is a book that deserves a wide and appreciative audience" —Oldie