Love & Other Disasters (Paperback)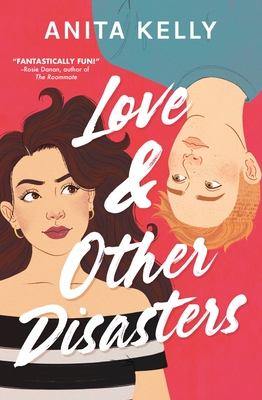 $16.99

Not in stock. Usually arrives in 2-5 Days
Description
---
The first openly nonbinary contestant on America's favorite cooking show falls for their clumsy competitor in this delicious romantic comedy debut that USA Today hailed as "an essential read."
Recently divorced and on the verge of bankruptcy, Dahlia Woodson is ready to reinvent herself on the popular reality competition show Chef's Special. Too bad the first memorable move she makes is falling flat on her face, sending fish tacos flying—not quite the fresh start she was hoping for. Still, she's focused on winning, until she meets someone she might want a future with more than she needs the prize money. 
After announcing their pronouns on national television, London Parker has enough on their mind without worrying about the klutzy competitor stationed in front of them. They're there to prove the trolls—including a fellow contestant and their dad—wrong, and falling in love was never part of the plan.
As London and Dahlia get closer, reality starts to fall away. Goodbye, guilt about divorce, anxiety about uncertain futures, and stress from transphobia. Hello, hilarious shenanigans on set, wedding crashing, and spontaneous dips into the Pacific. But as the finale draws near, Dahlia and London's steamy relationship starts to feel the heat both in and outside the kitchen—and they must figure out if they have the right ingredients for a happily ever after.  
Booklist's Best Romance Debuts of the Year
Women's Health's Best Romance Novels of the Year
Bookpage's Best Romance Novels of the Year
About the Author
---
Originally from a small town in the Pocono Mountains of Pennsylvania, Anita Kelly now lives in the Pacific Northwest with their family. A teen librarian by day, they write romance that celebrates queer love in all its infinite possibilities. Whenever not reading or writing, they're drinking too much tea, taking pictures, and dreaming of their next walk in the woods. They hope you get to pet a dog today.
To learn more, visit:
AnitaKellyWrites.com
Twitter @daffodilly
Instagram @AnitaKellywrites
Praise For…
---
"An essential read."—USA Today

"This chef's-kiss debut that brilliantly explores the idea of being true to yourself with insight and compassion. In between all the deliciously snarky wit, simmering sexual chemistry, romantic yearning, and quippy banter, Kelly also delivers some moments of romantic hope and happiness that will long resonate with readers."—Booklist, Starred review

"A delicious confection of a story: savory, succulent and also a bit salty in spots...The only bad thing about this book is that even after you've gorged on the whole thing, it'll leave you wanting more."—Bookpage, Starred Review

"Kelly will whet your appetite from the first page, capping off the wonderful feast with the absolute sweetest of happy-ever-afters."—Kirkus, Starred review

"A stunning debut."—Library Journal

"This debut is delicious in every way."—Buzzfeed Books

"Love & Other Disasters is by turns funny, sweet and hot, but Anita Kelly's emotional river runs deep--this romance will stay with readers long after they've turned the last page. A deeply emotional yet buoyant romantic comedy about finding love and self."—Shelf Awareness

"A sweet debut… a nonbinary protagonist in a mainstream romance is cause for excitement and the characters spark with chemistry. The heartwarming result will leave readers eager for more from Kelly."—Publishers Weekly

"Sweet and sexy and wholly delicious. I'm head over heels for these two delightful disasters—three if you count Dahlia's magnificent hair as a separate character. Anita Kelly writes with tremendous warmth and care, and these pages shine with joy."—Rachel Lynn Solomon, author of The Ex Talk

"A delightful celebration of love, food, and the power to changes our lives. Anita Kelly does a lovely job creating characters both unique and relatable and tells a story that leaves the reader glowing with hope."—Karelia Stetz-Waters, author of Satisfaction Guaranteed

"Sweet, spicy, with characters you won't forget! I loved Dahlia and London's growing chemistry and witty banter in this amazing foodie romance that had me wanting to eat all the food! But the perfect ingredient in this delicious story was watching how they each carved out space in their lives for each other."—Farah Heron, author of Accidentally Engaged

"With only one book, Anita Kelly has landed among my all-time favorite authors."—Meryl Wilsner, author of Something to Talk About

"Kelly writes wildly charming, exquisitely vibrant, and achingly tender prose and has a unique gift for making readers feel safe, loved, and understood within her pages. This story is both fantastically fun and crack your heart wide open vulnerable. I can't wait to buy it for everyone I've ever met." —Rosie Danan, author of The Roommate

"This book is sweet, steamy, and absolutely delectable! With relatable main characters, vivid (and delicious) descriptions, and beautiful queer representation, this is a book you both want to savor and consume in a single bite."—Alison Cochrun, author of The Charm Offensive

Anita Kelly has the perfect recipe for romance in her debut, Love and Other Disasters. Kelly masterfully balances the vulnerability and the scorching intimacy of new love for a supremely sexy, tender, and decadent romance. I didn't want it to end and I'm so hungry for more.—Ruby Barrett, author of Hot Copy