War Fever: Boston, Baseball, and America in the Shadow of the Great War (Hardcover)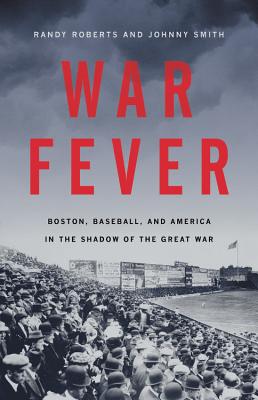 $30.00
Email or call for price
Description
---
A "richly detailed" portrait of the three men whose lives were forever changed by WWI-era Boston (Michael S. Neiberg): baseball star Babe Ruth, symphony conductor Karl Muck, and Harvard Law student Charles Whittlesey.
In the fall of 1918, a fever gripped Boston. The streets emptied as paranoia about the deadly Spanish flu spread. Newspapermen and vigilante investigators aggressively sought to discredit anyone who looked or sounded German. And as the war raged on, the enemy seemed to be lurking everywhere: prowling in submarines off the coast of Cape Cod, arriving on passenger ships in the harbor, or disguised as the radical lecturing workers about the injustice of a sixty-hour workweek.
War Fever explores this delirious moment in American history through the stories of three men: Karl Muck, the German conductor of the Boston Symphony Orchestra, accused of being an enemy spy; Charles Whittlesey, a Harvard law graduate who became an unlikely hero in Europe; and the most famous baseball player of all time, Babe Ruth, poised to revolutionize the game he loved. Together, they offer a gripping narrative of America at war and American culture in upheaval.

About the Author
---
Randy Roberts is the 150th anniversary distinguished professor of history at Purdue University. He is the award-winning author of many books on the intersection of popular and political history, including A Season in the Sun: The Rise of Mickey Mantle (with Johnny Smith). He lives in Lafayette, Indiana.
Johnny Smith is the J. C. "Bud" Shaw professor of sports history and an associate professor of history at Georgia Tech. He is the coauthor of Blood Brothers: The Fatal Friendship Between Muhammad Ali and Malcolm X (with Randy Roberts). He lives in Atlanta, Georgia.

Praise For…
---
"A marvelous book."—Sports Illustrated

"[War Fever] arrives just in time to remind us that ours is by no means the first generation to experience the wholesale disruption of our norms and institutions by an 'invisible enemy.' "—Boston Globe

"A remarkable new book."—Jeremy Schaap, ESPN

"In the midst of the curveball that is this crisis, sporty titles are helping satiate those who typically prefer spring training to spring releases. War Fever, a new book by Randy Roberts and Johnny Smith, examines how baseball converged with the country's last terrible pandemic. Among the tidbits revealed: In 1918, Babe Ruth had the so-called Spanish flu twice - so baseball, at least, has been here before."—Washington Post

"An entertaining reminder that American hero worship, media hype, and fierce nationalism haven't changed much in a century."—Kirkus

"A compelling look at a tumultuous moment in U.S. history through the lives of three extraordinary individuals. Fans of 20th-century American culture as well as Boston and World War I history will rejoice."—Library Journal

"Randy Roberts and Johnny Smith didn't set out to write a book about the Spanish-flu pandemic of 1918, but the outbreak looms like the ghost at the banquet over their new book War Fever. A recurring storyline that runs through the book's narrative has a much more urgent feel today as America is in the grips of the worst pandemic since that terrible autumn."—National Review

"Roberts and Smith have a brilliant knack for finding unexplored subjects and bringing them fully to life. This haunting, elegantly written book is the story of Boston -- but really America itself -- set against the background of a raging global war, momentous lifestyle changes, and an influenza epidemic that would kill more people in a shorter time than any event in human history. Told through the eyes of three vibrant characters, War Fever is a sober reminder of the forces that came together in 1918 to confront the Great War and shape the nation's future."—David Oshinsky, Pulitzer Prize-winning author of Polio: An American Story

"What a terrific book. With in-depth research and absorbing storytelling, Roberts and Smith bring to life a tumultuous chapter of American history. A Brahmin becomes a reluctant hero. A famous German conductor sits in an internment camp. A darn good pitcher turns out to be the best hitter of baseballs the world ever has seen. This will be the best few stay-at-home nights you'll have in some time."—Leigh Montville, author of The Big Bam: The Life and Times of Babe Ruth

"Carefully researched, full of dramatic moments and keen insights, and written with panache, War Fever is at once an impressive act of historical recovery and a ripping good tale. Weaving together the stories of the nation's greatest military hero, one of its most dastardly villains, and its most celebrated professional athlete, Randy Roberts and Johnny Smith vividly reconstruct the historical forces that reshaped Boston and reconfigured American life during World War I."
—Bruce J. Schulman, Boston University

"Roberts and Smith have written a fascinating and impressive book that sheds new light on the home front during World War I by examining the lives of three men and the city they loved. The fast-paced narrative is full of colorful characters, suspense, and intrigue. Although deeply researched and full of insight, the book reads more like a suspense novel than a work of history. Valuable for both history lovers and casual readers."
—Steven M. Gillon, author of America's Reluctant Prince: The Life of John F. Kennedy

"War Fever brilliantly weaves together the lives of three celebrities to tell the story of how the First World War reshaped America. Richly detailed and a pleasure to read."
—Michael S. Neiberg, author of The Path to War: How the First World War Created Modern America