Federal Rules of Civil Procedure with Resources for Study: 2019-2020 Statutory Supplement (Supplements) (Paperback)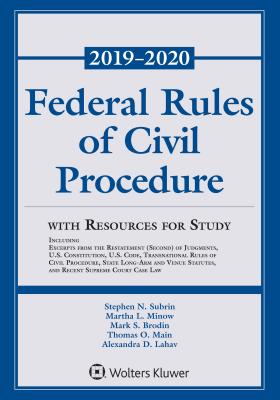 $108.55
Email or call for price.
Description
---
An ideal accompaniment to any civil procedure casebook, including the authors' own Civil Procedure: Doctrine, Practice, and Context, Fifth Edition, the 2019-2020 statutory supplement presents the current Federal Rules of Civil Procedure (FRCP). Useful cross-references to Advisory Committee Notes, Restatement sections, and Transnational Rules have been integrated into the FRCP to help students explore the larger context of each Rule.
Complete features include:
- The current Federal Rules of Civil Procedure and proposed amendments
- The U.S. Constitution and U.S. Code provisions current through June 1, 2019
- Excerpts from the Restatement (Second) of Judgments
- Excerpts from the American Law Institute/UNIDROIT Rules of Transnational Civil Procedure
- Examples of state long-arm and venue statutes