Fix-It and Forget-It 5-ingredient favorites: Comforting Slow-Cooker Recipes (Hardcover)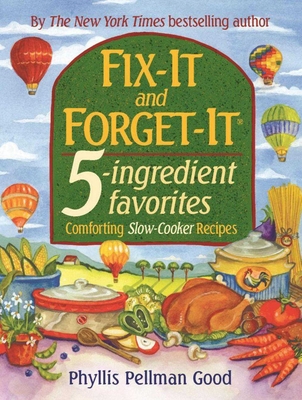 $24.95
Email or call for price
Description
---
          So who has time to prepare food these days? We time-starved cooks need recipes that are guaranteed to be— Quick to fix, Easy for anyone to make, whether you're a cook or not, Delicious and satisfying. The solution? Fix-It and Forget-It 5-Ingredient Favorites—the latest member in the multi-million copy Fix-It and Forget-It cookbook series! This smart cookbook offers convenience and comfort to anyone faced with a too-full life and hungry people to feed. Gather five or fewer readily available ingredients + your slow cooker + Fix-It and Forget-It 5-Ingredient Favorites—and you can have— Apricot Chicken, Lazy Lasagna, Sweet and Savory Brisket, Bacon Feta-Stuffed Chicken, Tortellini with Broccoli, Upside-Down Chocolate Pudding Cake, Brownies with Nuts.           Fix-It and Forget-It 5-Ingredient Favorites, with its more than 700 recipes, can be your new faithful companion. Turn to it for Main Dishes, Meats and Pastas, Vegetables, Soups, Breads, Breakfasts and Brunches, Desserts, Appetizers, Snacks, and Beverages. From New York Times best-selling author Phyllis Pellman Good, who believes that it is possible to do home-cooking and to enjoy the great satisfaction it brings to those who cook and to those who eat.

Skyhorse Publishing, along with our Good Books and Arcade imprints, is proud to publish a broad range of cookbooks, including books on juicing, grilling, baking, frying, home brewing and winemaking, slow cookers, and cast iron cooking. We've been successful with books on gluten-free cooking, vegetarian and vegan cooking, paleo, raw foods, and more. Our list includes French cooking, Swedish cooking, Austrian and German cooking, Cajun cooking, as well as books on jerky, canning and preserving, peanut butter, meatballs, oil and vinegar, bone broth, and more. While not every title we publish becomes a New York Times bestseller or a national bestseller, we are committed to books on subjects that are sometimes overlooked and to authors whose work might not otherwise find a home.
About the Author
---
Phyllis Good is a New York Times bestselling author whose books have sold more than 12 million copies. She is the original author of the Fix-It and Forget-It cookbook series, Lancaster Central Market Cookbook, Favorite Recipes with Herbs, and The Best of Amish Cooking. Her commitment is to make it possible for everyone to cook who would like to, whatever their age. Good spends her time writing, editing books, and cooking new recipes. She lives in Lancaster, Pennsylvania.