Fix-It and Forget-It Diabetic Cookbook Revised and Updated: 550 Slow Cooker Favorites--To Include Everyone! (Paperback)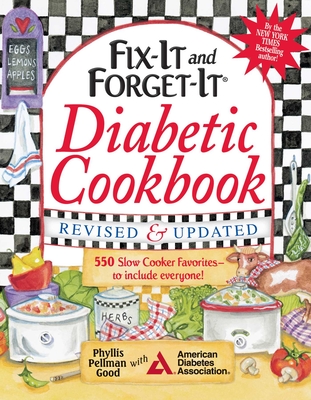 $15.95
Email or call for price
Description
---
With diabetes threatening so many of us, a cookbook with reliable recipes is a must-have resource. Fix-It and Forget-It Diabetes Cookbook, Revised and Updated offers 600 delicious, quick, and easy-to-prepare recipes, all conveniently made in a slow cooker. Fix-It and Forget-It cookbook maven, Phyllis Pellman Good, has once again teamed with the American Diabetes Association to provide complete Exchange Value and Basic Nutritional Values for each recipe. You can use these tasty and trusted recipes to plan your meals safely.

In addition to the Cookbook's scrumptious recipes from home cooks, the ADA has brought these new and helpful features to the book:

A Week of Menus, using recipes from the Cookbook. These show how to use a daily meal plan and stay within your calorie limit.

Clear Tips for planning meals and menus for those with diabetes.

Visual Clues for learning Portion Control. Plus information about how many servings of the various food groups to eat each day.

Answers to Frequently Asked Questions that are easy to understand, absorb—and live by!

Think of Fix-It and Forget-It Diabetic Cookbook, Revised and Updated as your cooking companion in the fight against diabetes. Good News—everyone at the table can enjoy these make-it-again recipes! Who can resist Turkey Cacciatore, Chianti-Braised Short Ribs, Creamy Corn, and Pumpkin Butter—just a few of the 50 new recipes you'll find in this yummy collection!

Skyhorse Publishing, along with our Good Books and Arcade imprints, is proud to publish a broad range of cookbooks, including books on juicing, grilling, baking, frying, home brewing and winemaking, slow cookers, and cast iron cooking. We've been successful with books on gluten-free cooking, vegetarian and vegan cooking, paleo, raw foods, and more. Our list includes French cooking, Swedish cooking, Austrian and German cooking, Cajun cooking, as well as books on jerky, canning and preserving, peanut butter, meatballs, oil and vinegar, bone broth, and more. While not every title we publish becomes a New York Times bestseller or a national bestseller, we are committed to books on subjects that are sometimes overlooked and to authors whose work might not otherwise find a home.
About the Author
---
Phyllis Good is a New York Times bestselling author whose books have sold more than 12 million copies. She is the original author of the Fix-It and Forget-It cookbook series, Lancaster Central Market Cookbook, Favorite Recipes with Herbs, and The Best of Amish Cooking. Her commitment is to make it possible for everyone to cook who would like to, whatever their age. Good spends her time writing, editing books, and cooking new recipes. She lives in Lancaster, Pennsylvania.