The Japanese Grill: From Classic Yakitori to Steak, Seafood, and Vegetables [A Cookbook] (Paperback)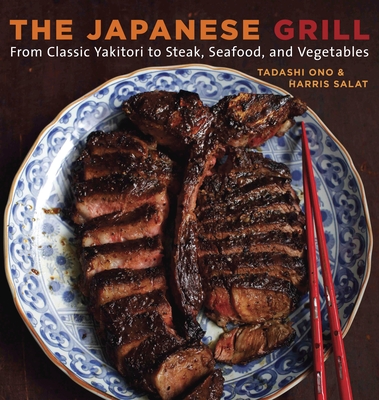 $25.00

Not in stock. Usually arrives in 2-5 Days
Description
---
American grilling, Japanese flavors. In this bold cookbook, chef Tadashi Ono of Matsuri and writer Harris Salat share a key insight: that live-fire cooking marries perfectly with mouthwatering Japanese ingredients like soy sauce and miso.
 
Packed with fast-and-easy recipes, versatile marinades, and step-by-step techniques, The Japanese Grill will have you grilling amazing steaks, pork chops, salmon, tomatoes, and whole chicken, as well as traditional favorites like yakitori, yaki onigiri, and whole salt-packed fish. Whether you use charcoal or gas, or are a grilling novice or disciple, you will love dishes like Skirt Steak with Red Miso, Garlic–Soy Sauce Porterhouse, Crispy Chicken Wings, Yuzu Kosho Scallops, and Soy Sauce-and-Lemon Grilled Eggplant. Ono and Salat include menu suggestions for sophisticated entertaining in addition to quick-grilling choices for healthy weekday meals, plus a slew of delectable sides that pair well with anything off the fire.
 
Grilling has been a centerpiece of Japanese cooking for centuries, and when you taste the incredible dishes in The Japanese Grill—both contemporary and authentic—you'll become a believer, too.
About the Author
---
TADASHI ONO is executive chef at Matsuri in New York City. He has been featured in The New York Times, Gourmet, and Food & Wine. Visit www.matsurinyc.com
 
HARRIS SALAT's stories about food and culture have appeared in The New York Times, Saveur, and Gourmet, and he writes the blog, The Japanese Food Report (www.japanesefoodreport.com). He is the author, with Takashi Yagihashi, of Takashi's Noodles. Together, Ono and Salat are the authors of Japanese Hot Pots. Visit The Japanese Grill online: www.thejapanesegrill.com.
Praise For…
---
"It will blow the lid off your grill."
—Seattle Weekly's Voracious Blog, Cooking the Books, 6/1/11

"What makes this book a wonderful resource is the authors' conviction that by applying traditional Japanese flavors to untraditional Japanese ingredients, home cooks will end up with something unexpected and delicious. . . . With The Japanese Grill, the authors have woven the seemingly disparate cultures and grilling styles to create a cookbook that respects and enriches both."
—The Epi-Log, Epicurious.com, 5/20/11

"The Japanese Grilltakes grilling to a new, unexpected level, mixing infinitely familiar grilled fare with a bit of the exotic."
—Devour Recipe & Food Blog, Cooking Channel, 5/12/11

"The land of the rising sun shares its border with barbecue country in this simple and salty collection."
—Publishers Weekly, 3/7/11

"From the simple (foil-baked green beans) to the sublime (chashu pork), this book boasts some of the most fabulous grilling recipes ever assembled in one volume. If you consider yourself to be a grill aficionado, you must—and I mean must—own it. Your grill library won't be complete without it."
—James Oseland, editor in chief of Saveur and author of Cradle of Flavor
 
"A stunning book about one of my favorite grill cultures. You can see how the Japanese have elevated live-fire cooking to the level of art."
—Steven Raichlen, author of Planet Barbecue and host of Primal Grill on PBS
 
"Demystifying the seemingly inapproachable is something that Ono and Salat believe in as much as I do. With The Japanese Grill they have taken on a genre of cooking that every home cook wants to become intimate with but thinks they can't execute. This book should get a serious workout on kitchen counters around the country. I love it!"
—Andrew Zimmern, host of The Travel Channel's Bizarre Foods with Andrew Zimmern and author of The Bizarre Truth