Prediabetes: A Complete Guide: Your Lifestyle Reset to Stop Prediabetes and Other Chronic Illnesses (Paperback)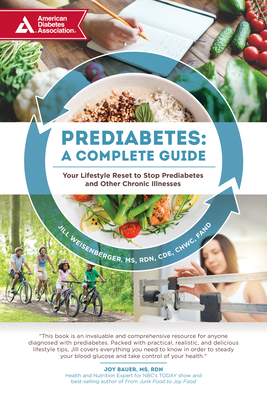 $16.95

Not in stock. Usually arrives in 2-5 Days
Description
---
Prediabetes can be scary, but it's also an opportunity--an opportunity to reset, to improve your health, and to get yourself in better shape than ever. Let Prediabetes: A Complete Guide show you how
Nearly 10 million people in the United States have been told by their doctor that they have prediabetes, with tens of millions more estimated to have prediabetes and not know it. In fact, the latest numbers from the CDC suggest that nearly 1 in 3 adults currently have either prediabetes or diabetes.
These are alarming numbers, and finding out that you are that one out of three can be even more alarming. Shock, denial, and confusion are not uncommon reactions. But there is a flipside to learning you have prediabetes. It's scary, but it also means you've caught the condition just in time, before it's too late. Prediabetes does not mean you will develop diabetes. There are actions you can take to improve your health.Prediabetes: A Complete Guide, will reveal to you in detail what these actions are are and empower you to find the healthy eating and lifestyle changes that work best for you to help you achieve your health goals.
Written by Jill Weisenberger, a registered dietitian nutritionist, certified diabetes educator, certified health and wellness coach, and author of the American Diabetes Association bestselling book, Diabetes Weight Loss--Week by Week, this comprehensive guide will lead you through dozens of concrete steps you can take to reduce the risk of developing type 2 diabetes and other lifestyle-related chronic diseases. Taking an individualized approach to your lifestyle reset, this book will allow you to choose your own path to wellness, help you gain a greater sense of wellbeing, boost your confidence in your abilities to maintain a healthful lifestyle, and potentially even help you reverse prediabetes and avoid type 2 diabetes and other chronic illnesses. You'll be feeling better than you have in years
Inside, you will learn to:
Identify your risks for developing type 2 diabetesSet personalized and meaningful behavioral goalsIdentify and build on your motivation for a lifestyle resetCreate positive new habitsChange eating habits for weight loss and greater insulin sensitivityChoose wholesome foods in the supermarket and when away from homeTweak your favorite recipesReduce sedentary timeStart or improve upon an exercise planReduce emotional eatingOrganize and track your progress with tools included in the bookMuch more.
About the Author
---
Jill Weisenberger, MS, RDN, CDE, CHWC, FAND, is an internationally recognized nutrition and diabetes expert and certified health and wellness coach. She is the author of the four books, including the best-selling Diabetes Weight Loss-Week by Week and the new Prediabetes: A Complete Guide. Jill has worked as both a nutrition counselor and a diabetes educator in the hospital and research settings and now in private practice in Newport News, VA.