Zen and Tonic: Savory and Fresh Cocktails for the Enlightened Drinker (Hardcover)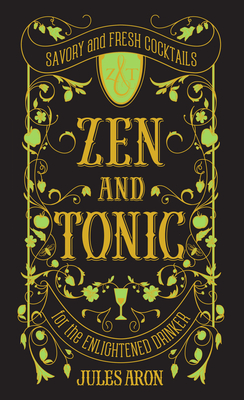 Description
---
Green drinks gone boozy
Green drinks gone boozy! Create your own delicious cocktails using ingredients you can find in your own backyard, windowsill, or local farmer's market. Learn to make your own simple syrups and infusions with immune boosting fruits, herbs and veggies that will leave you feeling refreshed and energized.
Lavishly illustrated with full-color photographs and offering over 100 fun, simple, and delicious cocktail recipes, Zen and Tonic lets you infuse your life and drinks with healthy, wholesome, revitalizing ingredients.Complete with a thorough introduction to today's producers of organic and quality spirits, and a spotlight on the wholesome herbs, spices and super foods featured in the recipes, Zen and Tonic, brings a fresh twist to the classic toast: "Let's drink to your health!" 
About the Author
---
Jules Aron is a holistic health and wellness coach who has been featured in the New York Post, Well + Good, and Mind Body Green. The author of Zen and Tonic and Vegan Cheese, Aron lives in Palm Beach, Florida.
Praise For…
---
Zen and Tonic, the guide to body-friendly inebriation, features recipes for punch made with marigold petals, vodka offset by kiwi, and gin sweetened with carrot juice. The resulting drinks are flavorful without being sickly sweet, tastier than boring vodka soda — and far less likely to give you a hangover.

— Michael Kaplan - The New York Post

Zen and Tonic is not just a cute title; it's Aron's guiding philosophy (and also a beverage in the book made with rose-infused gin and aloe water, sweetened with blueberry lavender syrup, and topped off with elderflower tonic water). As the eponymous recipe, it works to embody the concept, defined in the introduction as "the healing art of the cocktail." Aron wants to bring us back to the cocktail's original application as a means of imbibing the medicinal properties of plants — florals, herbs, fresh fruits and natural sugars are the focus.

— Tales of the Cocktails

The recipes in this book are a delight. They are simple, the ingredients overall are easily obtainable, and they are tasty. One thing that tends to bother me when it comes to books filled with recipes is how many ingredients you have to purchase to make them. Some of them can be esoteric or pricey for a home bartender to stock, and if you are not enjoying that cocktail often, they sit on the shelf gathering dust. The ingredients Ms. Aron includes can be found at a local specialty grocery store. The approachability of the book is really appealing to anyone looking to make some fresh cocktails for their next party. 
— The Alcohol Professor

Filled with over 100 cocktail recipes, this 240-page book showcases her favorite bar essentials, a few helpful tips, a handful of detailed spotlights on superfoods, and copious, savvy resources for organic spirits, mixers, and wines. And it's beyond beautiful to boot. why not add a healthier kick to your cocktails with fresh, organic ingredients? Throughout her book, Jules encourages drink enthusiasts to "get their booze on without the guilt.
— Jayme Henderson - Holly & Flora

When I came across the new Zen and Tonic book by Jules Aron, I knew I had to add it to my cocktail library ASAP. If you are a health food aficionado, cocktail maven, or perhaps a bit of both like me, this book is for you! Jules Aron, aka The Healthy Bartender, is here to prove that healthy cocktails don't have to be an oxymoron. Zen + Tonic features healthful ingredients in drinks like fresh produce, organic spirits, herbs + spices. Super fruits even make several appearances through out the pages. Utilizing good for you ingredients in cocktails, she promotes well being AND well made drinks- a win-win I say!

— Ashley Rose Conway - Craft and Cocktails

Author Jules Aron skips the refined sugar and artificial flavors in favor of garden-to-glass cocktails made with superfoods, herbs, teas, fresh juices, and even vegetables. Going back to traditional uses of alcohol for medicinal purposes, Aron's restorative cocktails — from her Boozy Bourbon Chai to her Hot Passion Toddy — warm your spirits and soothe your soul, while her refreshing green cocktails like the Pear and Parsley Booster give you all the nutrients of a green juice, plus an extra kick.
— Muses and Visionaries

As a syndicated TV/Radio health expert, one of the most common questions I get asked is, "Do I need to stop drinking alcohol to be healthy?" Research shows that moderate drinkers tend to have better health and live longer than those who abstain. In fact, in addition to having fewer heart attacks and strokes, moderate drinkers are generally less likely to suffer strokes, diabetes, arthritis, enlarged prostate, dementia (including Alzheimer's disease), and several major cancers. Jules does a magnificent job of showing the reader how to add wholesome, healthy herbs, spices and vitamin packed super foods to the mix. The saying goes, "If you drink, do so responsibly" and thanks to Jules you can now do so wholesomely and healthily too. Cheers! 
— Dr. David Friedman, Author of Diet, Disease, Deception

We're enchanted by a new book, Zen and Tonic, by Jules Aron. She takes cocktails, adds fresh interesting ingredients, like beet juice and coconut water, for a healthier version of some of our old favorites. Having a drink never looked so good (for you)

— InsideChic.com