Big Chief Harrison and the Mardi Gras Indians (Hardcover)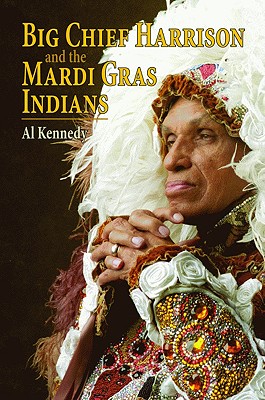 $40.95
Special Order. May not be available. Call the store for details.
Description
---
Big Chief of the Guardian of the Flames, philosopher, family man, and advocate for education, Donald Harrison took center stage in life. He demanded a well-deserved respect from his peers. An African American pushing through the Depression and the Civil Rights movement, he educated himself by reading scores of books while developing an acute understanding of philosophy and a love for jazz music. Out of a desire to give back to his community, Harrison and his wife, Herreast, founded the Guardians Institute, a cultural arts center for New Orleans youths.
Born in 1937, Donald Harrison quickly immersed himself into the culture of the Mardi Gras Indians despite his father's disapproval. He served a brief stint in the U.S. Army and returned to New Orleans to start a family, work a series of odd jobs, and pursue his education. Harrison continued to mask as an Indian and endorse literacy programs until his death in 1998.
This revealing biography presents a peek into the life of a remarkable man and chronicles his journey to become the Big Chief of an internationally recognized Mardi Gras Indian tribe and a staunch supporter of education. Based on more than seventy interviews with friends, family, and such notable musicians as Clyde Kerr, Jr., this biography exposes the man and complex mind beneath the colorful plumes. This illuminating book, which also provides insight into the secretive world of the Mardi Gras Indians, will captivate jazz aficionados, New Orleanians, and those who simply love the city.