Healing Trauma: A Pioneering Program for Restoring the Wisdom of Your Body (Paperback)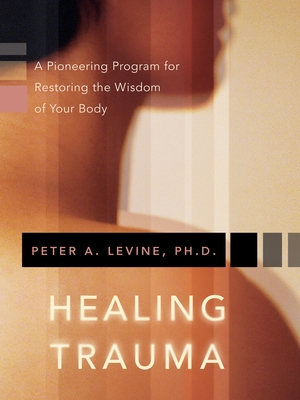 $16.99

Not in stock. Usually arrives in 2-5 Days
Description
---
Researchers have shown that survivors of accidents, disaster, and childhood trauma often endure lifelong symptoms ranging from anxiety and depression to unexplained physical pain, fatigue, illness, and harmful "acting out" behaviors. Today, professionals and clients in both the bodywork and the psychotherapeutic fields nationwide are turning to Peter A. Levine's breakthrough Somatic Experiencing® methods to actively overcome these challenges.In Healing Trauma, Dr. Levine gives you the personal how-to guide for using the theory he first introduced in his highly acclaimed work Waking the Tiger. Join him to discover: how to develop body awareness to "renegotiate" and heal traumas by "revisiting" them rather than reliving them; emergency "first-aid" measures for times of distress; and nature's lessons for uncovering the physiological roots of your emotions.

"Trauma is a fact of life," teaches Peter Levine, "but it doesn't have to be a life sentence." Now, with one fully integrated self-healing tool, he shares his essential methods to address unexplained symptoms of trauma at their source—the body—to return us to the natural state in which we are meant to live

Includes digital access to 12 guided Somatic Experiencing® exercises.
About the Author
---
Peter A. Levine, PhD, has spent 45 years studying and treating stress and trauma. He holds a doctorate degree in medical biophysics from the University of California at Berkeley and in psychology from International University. He is the developer of Somatic Experiencing®, a naturalistic approach to healing trauma. He has practiced and taught at treatment centers, hospitals, and pain clinics throughout the world, and has dealt with a wide range of trauma, including accidents, rapes, assaults, abuse, and invasive medical procedures. Peter was a stress consultant for NASA during the development of the Space Shuttle program. He served with the Institute for World Affairs Task Force for "Psychologists for Social Responsibility" and the American Psychological Association "Presidential Initiative on Responding to Large-Scale Disasters and Ethno-Centric Warfare." He is also the bestselling author of Waking the Tiger (published in 22 languages), as well as several other books and audio programs that teach people how to use the body as a tool in resolving trauma. Peter is the founder of the Foundation for Human Enrichment, based out of Boulder, Colorado, which now has a membership of 5,000 Somatic Experiencing® training practitioners worldwide. His current interests include prevention of trauma in children, for which he has published two books, his most recent being Trauma-Proofing Your Kids: a Parent's Guide to Instilling Confidence, Joy, and Resilience.

In Fall 2010, he published his master opus In an Unspoken Voice: How the Body Releases Trauma and Restores Goodness. In October 2010 he received a Lifetime Achievement Award from the United States Association for Body Psychotherapy (USABP.org).