Fossils for Kids: An Introduction to Paleontology (Paperback)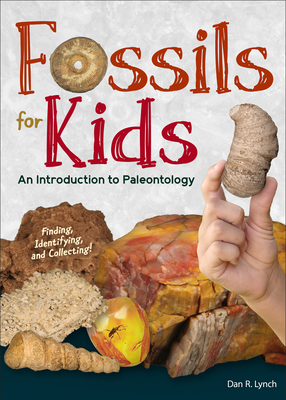 Description
---
Dig into the history of life with this children's introduction to paleontology, complete with an identification section and "how to" instructions.
As incredible as it sounds, fossils are all around us, waiting to be discovered. Become a young paleontologist. Learn all about ancient lifeforms preserved in rock. Dan R. Lynch, author of many Rocks & Minerals field guides, presents a kids' introduction to fossils.

Begin by learning about the early Earth and the process of fossilization. That's followed by an identification guide to the most common and collectible fossils: crinoids, snail shells, shark teeth, and more. With full-color photographs and illustrations, you'll always know what to look for. A "how to" section includes the details your family needs to begin a successful fossil hunt.
You'll also get information on everything from rock shop fossils and rules of collecting to dinosaur fossils and more. So learn to find, identify, and even collect the petrified forms of ancient organisms. Whether children see their first fossil at a museum or find their own fossil seashells, this easy-to-understand book is a perfect guide for beginners.
Inside You'll Find
"How to" section, including details on what to look for and where to look

The basics of paleontology and how fossils formed

Rules about what you can and can't collect

Identification guide to common and collectible invertebrate fossils, such as trilobites, as well as common rock shop finds
About the Author
---
Dan R. Lynch has a degree in graphic design with emphasis on photography from the University of Minnesota Duluth. But before his love of art and writing came a passion for rocks and minerals, developed during his lifetime growing up in his parents' rock shop in Two Harbors, Minnesota. Combining the two aspects of his life seemed a natural choice, and he enjoys researching, writing about, and taking photographs of rocks and minerals. Working with his father, Bob Lynch, a respected veteran of Lake Superior's agate-collecting community, Dan spearheads their series of rock and mineral field guides--definitive guidebooks that help amateurs "decode" the complexities of geology and mineralogy. He also takes special care to ensure that his photographs complement the text and always represent each rock or mineral exactly as it appears in person. He currently lives in Madison, Wisconsin, with his wife, Julie, where he works as a writer and photographer.