Whiskey Cocktails: Rediscovered Classics and Contemporary Craft Drinks Using the World's Most Popular Spirit (Spiral bound)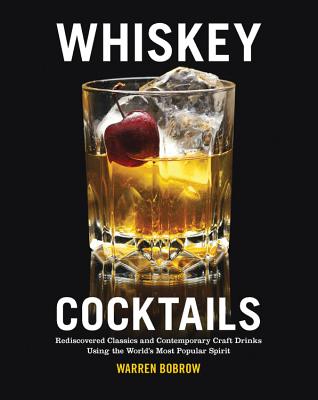 Description
---
Grab your bow tie and a rocks glass, because we're talking all about one of the most classic - and classy - spirits. Whether you like bourbon, scotch or rye, whiskey's diverse and complex taste will be your new go-to drink for parties, gatherings, or evenings in your study with a roaring fire. Whiskey can be an intimidating drink to the uninitiated. Most folks may not be able to drink it straight. We've got you covered. The Cocktail Whisperer, Warren Bobrow, author of Apothecary Cocktails (Fair Winds Press) incorporates some of the best whiskeys into hand-crafted cocktails that bring out the subtle notes and flavors of any good bourbon or scotch. Whiskey Cocktails features 75 traditional, newly-created, and original recipes for whiskey-based cocktails. This wonderfully crafted book also features drink recipes from noted whiskey experts and bartenders.
One of the best new whiskey books of 2014 - TastingTable.com
"In the cocktail movement, most cocktail books have ignored the whiskey drinker's palate, making us flip through pages of vodka, gin, and rum recipes before getting to a good whiskey recipe. In Whiskey Cocktails, Warren Bobrow did us all a favor. He makes cocktails with Scotch, Irish whiskey, Canadian whiskey, bourbon, Tennessee whiskey and a few others. Bobrow freshens up classic cocktail recipes and offers a few recipes that will surely become classics themselves. Finally, we, whiskey drinkers, have our own cocktail book to cherish. Thanks, Warren, for skipping all those other spirits. Whiskey Cocktails treats whiskey as the rightful king it is. - Fred Minnick, author of Whiskey Women: The Untold Story of How Women Saved Bourbon, Scotch & Irish Whiskey
"Warren has done it again. Whiskey Cocktails is a sublime journey of the senses with mouthwatering recipes and exquisite photography. Warren leads you on a historic and personal tour and keeps you reeled in with his graceful prose that emanates from the heart. An ardent sensualist, he approaches cocktails in the way an untarnished artist approaches the canvas--guileless, ingenious, and heartfelt. His cocktail compositions are true works of art that will stand the test of time. His commitment to sourcing unique, refreshing, quality ingredients to enhance his cocktails is second to none and it shows in the elaborate, delectable concoctions he wields." - Robert Sickler, Master of Whisky
"Before I made the drinks, I could already taste them. Warren's ability to articulate the subtlety of the flavors in his recipes makes possible tasting by reading." - Allison Goldberg, founder, Fruitations Craft Soda & Cocktail Mixers
"Warren Bobrow uses his great knowledge of mixing flavors to provide a book of extraordinary whiskey cocktails that will be enjoyed by all." - Michael Veach, bourbon historian, The Filson Historical Society (Louisville, KY)
About the Author
---
Warren Bobrow is the creator of the popular blog cocktailwhisperer.com and the author of Apothecary Cocktails, Whiskey Cocktails and Bitters and Shrub Syrup Cocktails.
Warren has taught classes on spirits and cocktails all over the world, including an advanced class on rum at the Moscow Bar Show. He's taught the fine art of social media and food writing at the New School in New York as well as classes on creative cocktails and mocktails at Stonewall Kitchen in Maine.
Warren has written hundreds of articles on cocktails and food for Chilled Magazine, Saveur, Whole Foods/Dark Rye, Total Food Service, Eater, Voda, Serious Eats, Foodista, Distiller, Sip and Beverage Media as well as many other international outlets. He has also written for the Oxford Encyclopedia: Gotham issue and the Sage Encyclopedia of Food Issues. He has forthcoming research being published in the History of Food and Drink of New Jersey by Wiley Publishing.
Warren was a 2010 Ministry of Rum judge, was selected to be a judge for the 2016 Edible Communities EDDY Awards, and was the only American food journalist asked to participate in Fete de la Gastronomie, a nationwide celebration of French cuisine in Burgundy.
Praise For…
---
"Before I made the drinks, I could already taste them. Warren's ability to articulate the subtlety of the flavors in his recipes makes 'tasting-byreading' possible." - Allison Goldberg, founder, Fruitations Craft Soda & Cocktail Mixers
"Warren has done it again. An ardent sensualist, he approaches cocktails in the way an untarnished artist approaches the canvas - guileless, ingenious and heartfelt. His cocktail compositions are true works of art that will stand the test of time." - Robert Sickler, Master of Whisky
"Warren Bobrow uses his great knowledge of mixing flavors to provide a book of extraordinary whiskey cocktails that will be enjoyed by all." - Michael Veach, bourbon historian, The Filson Historical Society, Louisville, Kentucky