Bitters and Shrub Syrup Cocktails: Restorative Vintage Cocktails, Mocktails, and Elixirs (Spiral bound)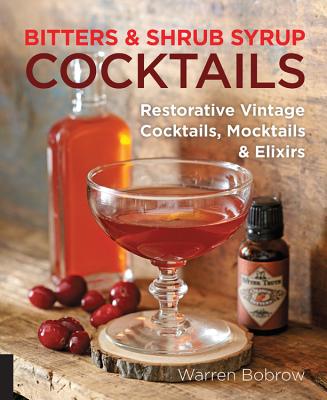 $25.73
Email or call for price.
Description
---
So simple to create at home, Bitters and Shrub Syrups will add an incredible depth of flavor to any beverage.
Historically, cocktail bitters, drinking vinegars, and even infused syrups were originally used for curing sickness with high concentrations of beneficial (healing) herbs and flowers. The slight alcohol base of bitters kept the often-fragile ingredients from rotting in the age before refrigeration. Bitters in the modern cocktail bar are embraced as concentrated and sophisticated flavor agents, although they are still used in holistic healing by herbalists. Shrubs add both tart and sweet notes to a craft cocktail or mocktail. They sate your hunger and quench your thirst, while stimulating digestion and good health of the gut.
The Cocktail Whisperer, Warren Bobrow, has been using bitters and shrubs in his quest for added zest in many of his craft cocktails, adding depth and mystery to a generic mixed drink.
Bitters and Shrub Syrup Cocktails will send your taste buds back in time with 75 traditional and newly-created recipes for medicinally-themed drinks. Learn the fascinating history of apothecary bitters, healing herbs, flowers, fruits, vegetables, and vinegars that are making a comeback in cocktail and non-alcoholic recipes. If you love vintage cocktails, you'll surely enjoy this guide to mixing delicious elixirs.
About the Author
---
Warren Bobrow is the creator of the popular blog cocktailwhisperer.com and the author of Apothecary Cocktails, Whiskey Cocktails and Bitters and Shrub Syrup Cocktails.
Warren has taught classes on spirits and cocktails all over the world, including an advanced class on rum at the Moscow Bar Show. He's taught the fine art of social media and food writing at the New School in New York as well as classes on creative cocktails and mocktails at Stonewall Kitchen in Maine.
Warren has written hundreds of articles on cocktails and food for Chilled Magazine, Saveur, Whole Foods/Dark Rye, Total Food Service, Eater, Voda, Serious Eats, Foodista, Distiller, Sip and Beverage Media as well as many other international outlets. He has also written for the Oxford Encyclopedia: Gotham issue and the Sage Encyclopedia of Food Issues. He has forthcoming research being published in the History of Food and Drink of New Jersey by Wiley Publishing.
Warren was a 2010 Ministry of Rum judge, was selected to be a judge for the 2016 Edible Communities EDDY Awards, and was the only American food journalist asked to participate in Fete de la Gastronomie, a nationwide celebration of French cuisine in Burgundy.
Philip M. Dobard, is the Vice President SoFAB Institute, Home of The Museum of the American Cocktail