After a While You Just Get Used to It: A Tale of Family Clutter (Hardcover)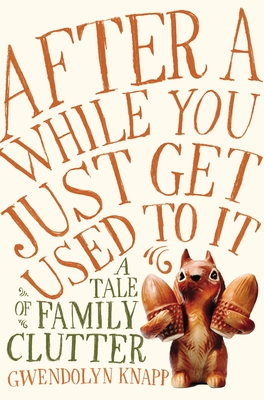 $26.95
Email or call for price
Description
---
A vibrant new voice ups the self-deprecating memoir ante with tragicomic tales of her dysfunctional life in swampland Florida and America's Big Easy
 
A dive bar palm reader who calls herself the Disco Queen Taiwan; a slumlord with a penis-of-the-day LISTSERV; and Betty, the middle-aged Tales of the Cocktail volunteer who soils her pants on a party bus and is dealt with in the worst possible way. These are just a few of the unforgettable characters who populate Gwendolyn Knapp's hilarious and heartbreaking—yet ultimately uplifting—memoir debut, After a While You Just Get Used to It.
 
Growing up in a dying breed of eccentric Florida crackers, Knapp thought she had it rough—what with her pack rat mother, Margie; her aunt Susie, who has fewer teeth than prison stays; and Margie's bipolar boyfriend, John. But not long after Knapp moves to New Orleans, Margie packs up her House of Hoarders and follows along. As if Knapp weren't struggling enough to keep herself afloat, working odd jobs and trying to find love while suffering from irritable bowel syndrome, the thirty-year-old realizes that she's never going to escape her family's unendingly dysfunctional drama.
 
Knapp honed her writing chops and distinctive Southern Gothic–humor style writing short pieces and participating in the renowned reading series Literary Death Match. Now, like bestselling authors Jenny Lawson, Laurie Notaro, and Julie Klausner before her, Knapp bares her sad and twisted life for readers everywhere to enjoy.
About the Author
---
Gwendolyn Knapp holds an MFA in Creative Writing from the University of North Carolina. Her fiction has appeared in Crazyhorse and Quarterly West, and her nonfiction has appeared in The Southeast Review, Hayden's Ferry Review, The Best Creative Nonfiction Vol. 2, and Narrative.ly. She also had a notable essay mention in The Best American Essays 2013. Knapp lives in New Orleans, where her mother also relocated in 2010, along with tons of her junk.
Praise For…
---
"This true story is like the best craziest-good novel you ever read. Knapp's natural talent wraps advanced techniques of fiction and creative nonfiction into a big bang of story-telling. Miss this one and you miss an exploding universe of family goodies."
—Clyde Edgerton, author of Raney and Papadaddy's Book For New Fathers
 
"A funny, slightly disturbing, wistful read that could only happen in the South.  If you grew up below the Mason-Dixon line, this book will make you nostalgic for the South, its eccentrics, and reunions that include a cooler of beer, someone getting out of jail, and an itchy dog."
—Adele Levine, author of Run, Don't Walk
 
"Despite a life as hectic as a hurricane, and at times as foreboding as a Florida swamp, Gwendolyn Knapp's After A While You Get Used To It is a hilarious, insightful reminder of what the best memoirs can offer, imposing a sense of order and much-needed catharsis on the chaos of life."
 – Josh Hanagarne, author of The World's Strongest Librarian
 
"Gwendolynn Knapp may not be the hoarder her mother is, but lucky for us readers she has been hoarding sidesplittingly hilarious stories about bad family holidays, bad boyfriends, and bad bowels and unloads them all in her romp-of-a-read memoir. To open her book is to unpack a warehouse full of laughter."
—Jamie Brickhouse, author of Dangerous When Wet: A Memoir
 
"Wielding a twisted wit and incisive eloquence, Knapp forges her way to adulthood through the suffocation of stuff. Deliciously rich prose and tart turns of phrase make the John Waters-esque characters of her life real on the page, in the end creating a coffee-stained ink-splattered dog-eared love letter to her family and the scruffy little packrat in all of us."
—Shawna Kenney, author of I Was a Teenage Dominatrix
 
"I love this book. I love it. In one paragraph, I'm laughing my ass off; the next, I'm audibly shocked, saying, "Ohmygod, did that really just happen?"; and the next, I'm knocked off my seat by moments so poetic and profound they take my breath away. Knapp is a wonderful craftswoman; each essay builds on the next to paint her growing up and growing into this wild, beautiful dysfunction, and at the heart of it all is a love so enormous it seeps off the pages. Here is what it means to be a family. Here is what it means to be alive."
—Megan Stielstra, author of Once I Was Cool
 
"Gwendolyn Knapp's writing manages to be both darkly acerbic and incredibly warm — reading her memoir, I found myself cycling back and forth between cackling and covering my mouth in puritanical shock. After A While You Just Get Used To It perfectly captures the relentless, crazy-making love only possible (and endurable) among family."
—Katie Heaney, author of Never Have I Ever

"I've long believed that someone would eventually write a book about what it's like to grow up as a normal person in normal old Florida — a state filled with earnest, lighthearted folks who each and every day strive to bring a little sunshine into the lives of others. This is not that book."
—Wayne Curtis, author of And a Bottle of Rum: A History of the New World in 10 Cocktails