I'm Drawing As Fast As I Can!!! - A New Collection of Cartoons (Paperback)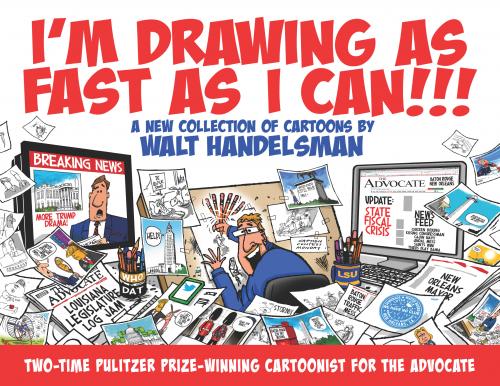 Description
---
The latest collection of editorial cartoons by Walt Handelsman, The Advocate's two-time Pulitzer Prize-winning cartoonist. These cartoons were published from 2013 to 2018 in The Advocate.

Whether Handelsman is taking aim at the foibles of the Louisiana legislature, satirizing the ongoing craziness in our nation's Capitol, or commenting on international developments, he handles each topic with humor, wit, and political insight. Walt's new book will delight readers in south Louisiana and around the country with his unique and poignant take on current events. Handelsman hits the mark every time!
About the Author
---
Walt Handelsman is the two-time Pulitzer Prize-winning editorial cartoonist for THE ADVOCATE. His work is nationally syndicated by Tribune Content Agency in Chicago to over 200 newspapers around the country and internationally. One of the most widely reprinted cartoonists in America, Handelsman's work has been seen in NEWSWEEK, TIME, THE NEW YORK TIMES, THE WASHINGTON POST, USA TODAY, U.S. NEWS & WORLD REPORT, THE WEEK, and THE CHICAGO TRIBUNE. He has been a featured guest on CNN, Fox PBS's THE NEWSHOUR, and ABC'S NIGHTLINE. He is the author of nine collections of editorial cartoons as well as a children's book He lives in New Orleans with his wife, Jodie. They have two sons, James and William.