Dinner with Churchill: Policy-Making at the Dinner Table (Hardcover)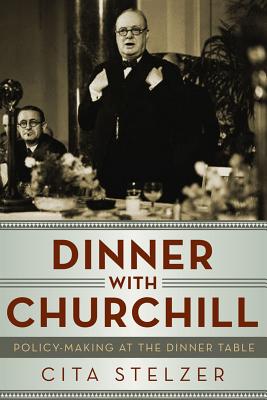 $45.01

Not in stock. Usually arrives in 2-5 Days
(This book cannot be returned.)
Description
---
A colorful and eloquent look at Churchill as he has never been seen before. With fascinating new insights into the food he ate, the champagne he loved, and the important guests he charmed, this delectable volume is a sumptuous and intellectual treat.
A friend once said of Churchill "He is a man of simple tastes; he is quite easily satisfied with the best of everything."           
But dinners for Churchill were about more than good food, excellent champagnes and Havana cigars. "Everything" included the opportunity to use the dinner table both as a stage on which to display his brilliant conversational talents, and an intimate setting in which to glean gossip and diplomatic insights, and to argue for the many policies he espoused over a long life.
In this riveting, informative and entertaining book, Stelzer draws on previously untapped material, diaries of guests, and a wide variety of other sources to tell of some of the key dinners at which Churchill presided before, during and after World War II– including the important conferences at which he used his considerable skills to attempt to persuade his allies, Franklin Roosevelt and Joseph Stalin, to fight the war according to his strategic vision.
About the Author
---
Cita Stelzer received a BA degree from Barnard College with a major in history, worked in educational publishing, and has been a stringer for the Financial Times. She founded a public relations firm in New York City and served as special aide to Mayor John Lindsay and to Governor Hugh Carey before joining an economic consulting firm specializing in regulatory policy.
She is an Advisor to the Churchill Archives Centre, Churchill College, Cambridge, a member of the Board of Advisers of the International Churchill Society, and a former Trustee of Wigmore Hall. Her first book, Dinner with Churchill: Policy-Making at the Dinner Table, was published in 2011.
Praise For…
---
A
delightful and fascinating book in which we are reminded that an
evening dining with Churchill must have been one of the most memorable
and enjoyable occasions one could have hoped for.
— Andrew Roberts, author of The Storm of War

A
delightful and delicious tribute to Churchill's heroic appetite for
wining, dining and politicking.
— Ben Macintyre, author of Operation Mincemeat

A feast for foodies and history buffs alike, Dinner With Churchill offers a delicious and easily digestible portrait of the culinary tactics that helped its subject win the cooperation of others and, in so doing, the global conflict that threatened to destroy everything he held dear.

— Jay Stafford

The
Churchill industry has been so productive in the decades since his
death, and such libraries of books have been published, that an original
take on his exceptionally well-documented life might seem impossible.
However, with this readable "gastrobiography," Stelzer has succeeded
brilliantly in producing one.

Acutely revealing.

What
a wonderful repast Cita Stelzer has served us. History as it was
consumed: Roosevelt sipping, Churchill quaffing – the best (and not so
good) cuts and the great vintages are all on the table. Another bottle,
please!
— William Shawcross, author of Justice and the Enemy