Dinner With Churchill (Paperback)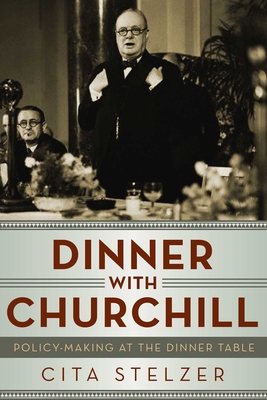 $18.66
Email or call for price
Description
---
A friend once said of Churchill "He is a man of simple tastes; he is quite easily satisfied with the best of everything." But dinners for Churchill were about more than good food, excellent champagnes and Havana cigars. "Everything" included the opportunity to use the dinner table both as a stage on which to display his brilliant conversational talents, and an intimate setting in which to glean gossip and diplomatic insights, and to argue for the many policies he espoused over a long life.In this riveting, informative and entertaining book, Stelzer draws on previously untapped material, diaries of guests, and a wide variety of other sources to tell of some of the key dinners at which Churchill presided before, during and after World War II– including the important conferences at which he used his considerable skills to attempt to persuade his allies, Franklin Roosevelt and Joseph Stalin, to fight the war according to his strategic vision.
About the Author
---
Cita Stelzer received a BA degree from Barnard College with a major in history, worked in educational publishing, and has been a stringer for the Financial Times. She founded a public relations firm in New York City and served as special aide to Mayor John Lindsay and to Governor Hugh Carey before joining an economic consulting firm specializing in regulatory policy. She is an Advisor to the Churchill Archives Centre, Churchill College, Cambridge, a member of the Board of Advisers of the International Churchill Society, and a former Trustee of Wigmore Hall. Her first book, Dinner with Churchill: Policy-Making at the Dinner Table, was published in 2011.
Praise For…
---
To
Churchill, meals weren't just a matter of getting something to eat.
They were social occasions which he used to cement alliances and sway
opponents.

These meals, and even white-linen picnics for generals in France after D-Day, are chronicled in Dinner With Churchill.


A delightful and fascinating book.
— Andrew Roberts, author of The Storm of War

A delicious tribute to Churchill's heroic appetite for wining, dining, and politicking.
— Ben Macintyre, author of Operation Mincemeat

A feast for foodies and history buffs alike, Dinner With Churchill offers a delicious portrait of the culinary tactics that helped Churchill end the global conflict that threatened to destroy everything he held dear.