The Art of American Whiskey: A Visual History of the Nation's Most Storied Spirit, Through 100 Iconic Labels (Hardcover)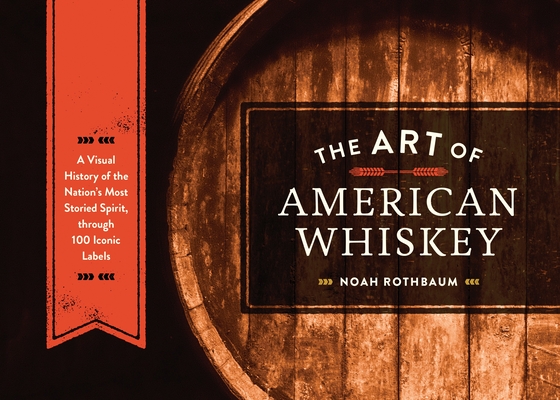 Description
---
A visual history of American whiskey, as told through hundreds of whiskey bottle labels, from early, pre-Prohibition-era days to the present.

Just as wine is to the French or beer is to the Germans, whiskey--especially bourbon and rye--is  an integral part of the history and culture of the United States. The Art of American Whiskey traces the arc of this beloved, renowned spirit--from its earliest days in the Colonial era, through the Civil War, Prohibition, Great Depression, and up to the current craft-distilling boom. Illustrated with 100 full-color modern and historic labels from the most iconic bottles ever made, The Art of American Whiskey is an instant collectible and a fantastic gift for any whiskey enthusiast or design lover. Captions, sidebars, profiles and short histories tell the story of the pioneers and places behind the labels, and each chapter features era-appropriate recipes from all-star bartenders and cocktail experts that will tickle any tippler's fancy.
About the Author
---
NOAH ROTHBAUM is a writer and spirits expert based in New York City. He is the author of The Business of Spirits, the former editor-in-chief of Liquor.com, and has contributed to the Wall Street Journal, New York Times, O Magazine, Details, Men's Journal, Men's Fitness, Food & Wine, Gastronomica, and more.
Praise For…
---
"This splendid introduction to American whiskey, told through its iconography and period cocktails, sure whets the appetite for a glass of the real thing!" 
—Charles MacLean, author of World Whiskey

"As an immigrant to the United States, I knew little about American history until I started to research bourbon back in the 1990s. Reading The Art of American Whiskey was like taking a graduate course. Pour yourself two fingers of whiskey, then pore over this fascinating and incredibly beautiful book—it's a grand way to relax." 
—Gary "gaz" Regan, author of The Negroni and coauthor of The Book of Bourbon and Other Fine American Whiskeys

"The Prohibition Era left a gap in America's knowledge of whiskey, leading to a slew of myths and misconceptions. Whiskey and spirits enthusiast Noah Rothbaum debunks some of these myths in his new book, "The Art of American Whiskey," which uses 100 vintage and modern labels to help tell the story of whiskey in America."
—Brittany Fowler, Business Insider

"Flip through, drink up and soak in a unique, visually delightful take on a distinctly American art form."
—Kat Kinsman, Tasting Table

"Many a book, blog and news article has been devoted to the topic of whiskey: the way it's aged, where to drink it, how to store it and serve it or pair it with food. But comparatively little attention has been paid to how whiskey is packaged. Which is a shame, really, when you think about how a beautiful, funny or fancy-looking label can influence which bottles we buy — and which we ignore — when shopping the whiskey aisle. Spirits and wine writer Noah Rothbaum felt that it was time that American whiskey labels had their day in the spotlight. His new book, The Art of American Whiskey,traces the history of surprisingly elaborate labels from the 1800s to today."
—Tove Danovich, NPR 

"Noah Rothbaum follows the endearing history of how the great whiskey peddlers of America enticed us to try their products in the first place. Natural scenes, patriotism, frontier heroes, folkloric heroes, medicinal claims: very little was off limits for marketers looking to hawk their hooch. But this book isn't limited to commercial imagery. It's also a valuable history of the country as a whole—not to mention that it includes some pretty good cocktail recipes. "
—Jack Bettridge, Cigar Aficionado