Southern Nights: Night People, Arise and Walk, Baby Cat Face (Paperback)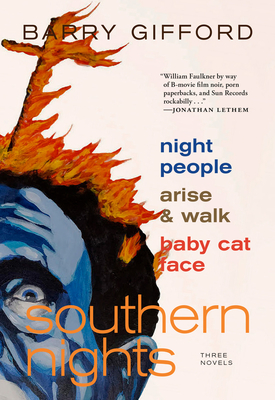 Description
---
God in these Southern Nights is only another possibly deranged near relative, cast in the only nonspeaking part in this human drama. Everyone else talks and talks. And it's the dialogue in these novels that makes them three of Gifford' best, reminders of the author's seemingly unlimited range and versatility, a comic-tragic genius for our time.
   Night People, Arise & Walk, and Baby Cat-Face stand out for their sheer velocity; for the copious, raw violence; for the invented religions and gods that make people do things; and for all the other horrors that somehow cohabit—affably—with the genuine pathos and loveliness of the many unforgettable characters and the things these characters say so winningly that we've never heard anyone say before.
About the Author
---
The author of more than forty works of fiction, nonfiction, and poetry, which have been translated into over twenty-five languages, BARRY GIFFORD writes distinctly American stories for readers around the globe. From screenplays and librettos to his acclaimed Sailor and Lula novels, Gifford's writing is as distinctive as it is difficult to classify. Born in the Seneca Hotel on Chicago's Near North Side, he relocated in his adolescence to New Orleans. The move proved significant: throughout his career, Gifford's fiction—part-noir, part-picaresque, always entertaining—is born of the clash between what he has referred to as his "Northern Side" and "Southern Side." Gifford has been recipient of awards from PEN, the National Endowment for the Arts, The American Library Association, the Writers Guild of America and the Christopher Isherwood Foundation. His novel Wild at Heart was adapted into the 1990 Palme d'Or-winning film of the same name. Gifford lives in the San Francisco Bay Area.
Praise For…
---
"Barry Gifford is a killer fuckin' writer and I have a lot of respect for him. His writing is pure and minimal and it sparks things and gets your imagination going. ... Barry's got these characters and they're not going to be doctors or lawyers, but they're smart and they live in a kind of subterranean culture, and I really love that world and the things that can happen there. It's wild and free and there's a kind of fearlessness, yet there's also some kind of deep understanding of life." —David Lynch, in his autobiography Room to Dream

"The three short novels in Southern Nights, comprised of Night People, Arise & Walk, and Baby Cat-Face will leave you awake at night, pulse racing, double-taking the shadows for Gifford's people. These novels are a howling freight train, lit up and pummeling full blast into the darkness. While reading them, I kept thinking of Flannery O'Connor, Barry Hannah, and William Gay: southern writers unafraid of depicting violence, the grotesque, the worst in the human heart." —Ellis Purdie, Jackson Clarion Ledger

"Barry Gifford is one of the great American writers... up there with Patricia Highsmith and Raymond Carver... Anyone who flits between quoting Tuesday Weld and Roland Barthes at the start of his stories is a good man, and when chapters start with transsexual Cuban bartenders offering free drinks to whoever would play 'Lookin for a Love' by The Valentinos, then you know you're in the presence of a beauty itself rare—no matter how mad the company is." —John Carney, Tangents (UK)