A Dream and a Chisel: Louisiana Sculptor Angela Gregory in Paris, 1925-1928 (Women's Diaries and Letters of the South) (Hardcover)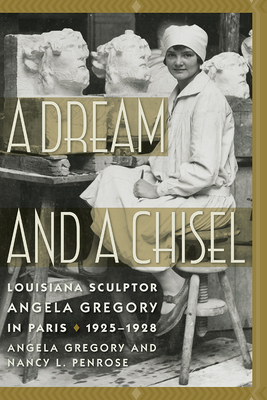 List Price: $41.99
Our Price: $39.99
(Save: $2.00 5%)
Description
---
A portrait of a young artist's formative years studying sculpture in Paris, recounted in her own words
Angela Gregory is considered by many the doyenne of Louisiana sculpture and is a notable twentieth century American sculptor. In A Dream and a Chisel, Angela Gregory and Nancy Penrose explore Gregory's desire, even as a teenager, to learn the art of cutting stone and to become a sculptor. Through sheer grit and persistence, Gregory achieved her dream of studying with French artist Antoine Bourdelle, one of Auguste Rodin's most trusted assistants and described by critics of the era as France's greatest living sculptor. In Bourdelle's Paris studio, Gregory learned not only sculpting techniques but also how to live life as an artist. Her experiences in Paris inspired a prolific sixty-year career in a field dominated by men.
After returning to New Orleans from Paris, Gregory established her own studio in 1928 and began working in earnest. She created bas-relief profiles for the Louisiana State Capitol built in 1932 and sculpted the Bienville Monument, a bronze statue honoring the founder of New Orleans, in the 1950s. Her works also include two other monuments, sculptures incorporated into buildings, portrait busts, medallions, and other forms that appear in museums and public spaces throughout the state. She was the first Louisiana woman sculptor to achieve international recognition, and, at the age of thirty-five, became one of the few women recognized as a fellow of the National Sculpture Society. Gregory's work appeared in group shows at many prestigious museums and in exhibitions, including the Salon des Tuileries and the Salon d'Automne in Paris, the Palace of the Legion of Honor in San Francisco, the National Collection of Fine Arts in the Smithsonian in Washington, D.C., and the Metropolitan Museum of Art in New York.
This memoir is based on Penrose's oral history interviews with Gregory, as well as letters and diaries compiled before Gregory's death in 1990. A Dream and a Chisel demonstrates the importance of mentorships, offers a glimpse into the realities of an artist's life and studio, and captures the vital early years of an extraordinary woman who carved a place for herself in Louisiana's history.
About the Author
---
Nancy L. Penrose is an award-winning writer whose essays have been published in many literary magazines and in anthologies. She is the coauthor, with Khoo Seow Hwa, of Behind the Brushstrokes: Appreciating Chinese Calligraphy. From 1999 to 2014 Penrose served as writer, editor, and communications coordinator for the University of Washington's ocean observatory program.