How the Gringos Stole Tequila: The Modern Age of Mexico's Most Traditional Spirit (Hardcover)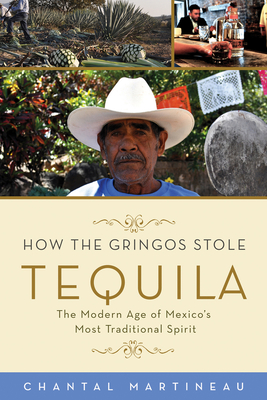 $31.53
Not in stock. Usually arrives in 2-5 Days
Description
---
Tequila is one of the fastest-growing spirits categories in America, the margarita the country's most popular cocktail. But no longer is it only cheap party fuel—it has become America's luxury sipping spirit. How the Gringos Stole Tequila eloquently traces this extraordinary evolution.
 
As Chantal Martineau makes clear, there's far more to the story than an upmarket trend shift. Martineau spent several years immersing herself in the world of tequila—traveling to visit distillers and farmers in Mexico, meeting and tasting with leading experts and mixologists around the United States, and interviewing academics on either side of the border who have studied the spirit and its raw material: agave.
 
How the Gringos Stole Tequila addresses issues surrounding the sustainability of the limited resource that is agave, the preservation of traditional production methods, and the legal constructs designed to protect tequila from counterfeiting. It examines the agave advocacy movement—made up of agave growers, distillers, bartenders, importers, and scholars—that has grown up alongside the spirit's swelling popularity.
 
But besides detailing the culture and politics of Mexico's most iconic liquid export, this book also takes readers on a colorful tour of the country's Tequila Trail, as well as introducing them to the mother of tequila: mezcal. Including an unprecedented drinking guide to Mexico's agave-based spirits and a stunning collection of full-color photographs of the production process, How the Gringos Stole Tequila will long remain the definitive look at the evolution of North America's only truly native spirit.
About the Author
---
Chantal Martineau has written articles about food, drink, culture, and travel for numerous publications, including Afar, Allure, the Atlantic, Decanter, Edible, the Guardian, Islands, Redbook, Saveur, Time Out, the Village Voice, and Wine Enthusiast. She lives in New York City.
Praise For…
---
"Martineau makes her nonfiction debut with this thoroughly researched study of what appears to be a growing trend in the spirit world: the rise of tequila from a low-end frat-party tipple to a high-end connoisseur's sipping drink." —Kirkus Reviews
"The perfect read to accompany your tequila, mezcal, or pulque—all drinks made from the mature agave, the spiky Mexican succulent with a heart that can become distilled gold. Chantal Martineau has written a compelling travelogue, tasting guide, business analysis, and ecological primer that firmly places tequila and its cousins as worthy spirits beyond cheap college margarita drunks."—Mark Pendergrast, author of Uncommon Grounds: The History of Coffee and How It Transformed Our World
"Chantal Martineau ties our fate as Americans with the ecosystem of the agave, which is threatened, like our foodways, by shortsighted industrialization and corporate greed. The struggle is complicated as it relates to the tequila-loving gringo, and as one, I am deeply grateful for the way Martineau has portrayed it." —Jim Meehan, author of The PDT Cocktail Book
"This wonderfully written book illuminates a part of the spirits industry that even the most diehard aficionado might not know about."—Tom Acitelli, author of The Audacity of Hops: The History of America's Craft Beer Revolution
"Martineau is an adept guide, charming and deeply knowledgeable, to the intricate and fascinating world of agave-based spirits. With passion and authority, How the Gringos Stole Tequila argues that tequila and mezcal are not cheap firewater, but rather richly cultural and potentially threatened products worthy of connoisseurship."—Bryce T. Bauer, author of Gentlemen Bootleggers: The True Story of Templeton Rye, Prohibition, and a Small Town in Cahoots
"For anyone curious but largely uneducated about agave spirits, Ms. Martineau makes a fine instructor." —Wall Street Journal
"Martineau's book is an excellent introduction to tequila's long history and complicated evolution over the last 15 years…"  —Distiller 
"a lively exploration of the heritage, culture, practices and politics that shape Mexico's most famous export. Martineau introduces producers using traditional agricultural and distillation methods, shows readers why they're worth preserving, and outlines the challenges facing anyone concerned with the quality and sustainability of tequila, mezcal and other agave spirits." —Kansas City Star