Dinner for Dogs: 50 Home-Cooked Recipes for a Happy, Healthy Dog (Hardcover)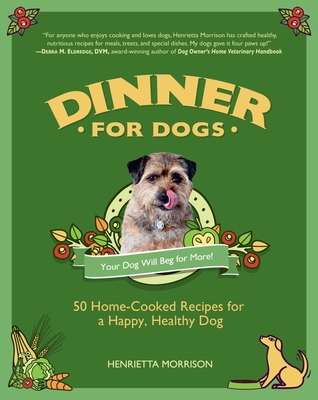 Description
---
"What's for dinner?" It's the one question always on your dog's mind, and with Dinner for Dogs, you'll feel good about what you feed your canine friend. Cooking for dogs not only keeps them fit and cheery, but also allows you to cover their nutritional needs and save on vet bills in the long run.

A dog food expert and a passionate believer that we should feed our dogs the same quality food as we feed ourselves, Henrietta Morrison serves up 50 tasty, nutritious, and easy-to-make recipes, all developed with the help of a vet and nutritionist. With tips throughout on cooking recipes in batches to save time, maximizing pantry ingredients, and more, Dinner for Dogs will prepare you to whip up weeknight dinners and special feasts for dogs of all ages, from puppy to old hound. Here you'll find:

• BALANCED BREAKFASTS: Apple and Blueberry Muffins, Morning Oatmeal
• DAILY DINNERS: Homemade Kibble, Chicken and Rice Balls
• SPECIAL MEALS FOR SPECIAL DAYS: Celebration Cupcakes, Meat Pies
• TASTY TREATS: Peanut Butter and Buckwheat Kisses, Cheesy Puffs
• RECOVERY RECIPES: Calming Oats, Quick Doggy Ice Cream
• AND ADVICE on how to read a dog food label, calorie requirements, and more.
About the Author
---
Henrietta Morrison is the founder of Lily's Kitchen, voted the UK's #1 pet food company for the last four years by the Good Shopping Guide. Her dog food is sold in hundreds of stores across the UK. Morrison believes that dogs should eat proper food, so she works with cooks, nutritionists, and vets to develop her recipes. Her border terrier, Lily, is her chief taster.
Praise For…
---
"For anyone who enjoys cooking and loves dogs, Henrietta Morrison has crafted healthy, nutritious recipes for meals, treats, and special dishes. My dogs gave it four paws up!"
—Debra M. Eldredge, DVM, award-winning author of Dog Owner's Home Veterinary Handbook

"As a dog trainer, I come across many owners wanting to cook for their pooches and improve their diets. Dinner for Dogs is an informative and easy-to-read recipe book that I will definitely be recommending!"
—Kate Perry, New York magazine's "Best Dog Trainer" and author of Training for Both Ends of the Leash