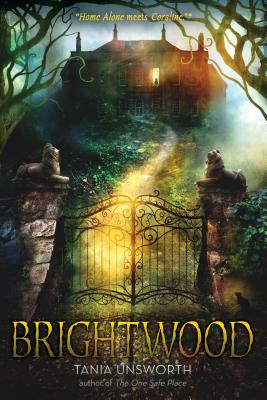 $9.30
Not in stock. Usually arrives in 2-5 Days
Description
---
"Brilliantly conceived . . . entertaining and heartfelt." —Kirkus Reviews

 

Daisy Fitzjohn knows there are two worlds: the outside world and the world of Brightwood Hall, her home—and the only place she's ever been. Daisy and her mother have everything they need within its magnificent, crumbling walls. But, when Daisy's mother leaves unexpectedly one morning, a strange visitor arrives on the estate, claiming to be a distant cousin, James Gritting. As the days tick by and Daisy's mother doesn't return, Gritting becomes more and more menacing. He wants Brightwood for himself, and he will do anything to get it—unless Daisy, with only her imaginary companions to help her, can stop him.

 

Tania Unsworth takes readers on a twisting, heart-pounding journey through dark corridors and wild, untamed gardens in this novel perfect for fans of Doll Bones and Coraline.
About the Author
---
The daughter of the late novelist Barry Unsworth, Tania Unsworth spent her childhood in Cambridge, UK, before moving to America in her early twenties. She currently lives in Boston, Massachusetts, with her husband and two sons. She's the author of The One Safe Place. Her website is www.taniaunsworth.com.
 
Praise For…
---
"A proper page-turning thriller."
—The Guardian
 
"Brilliantly conceived by Unsworth . . . Subtle and thought-provoking, the novel is entertaining and heartfelt."
—Kirkus Reviews
 
"This is the best kind of middle-grade thriller: atmospheric with just the right amount of scare and a few bits of humor as a bonus . . . Readers who loved Beatty's mansion-set Serafina and the Black Cloak will happily wander Brightwood's grounds and explore its mysteries."
—Bulletin of the Center for Children's Books
 
"Filled with action and intrigue . . . This suspenseful story will keep intrepid readers transfixed until the well-earned happy ending."
—The Horn Book Magazine
 
"A nice read-alike for fans of Jonathan Auxier's The Night Gardener or Neil Gaiman's Coraline . . . A solid purchase for middle grade students who enjoy creepy stories with elements of magical realism."
—School Library Journal
 
 "Beautiful, evocative writing brings Daisy's world to life, and readers will empathize with Daisy and admire her courage and resourcefulness."
—Booklist
 
"Think of it as 'Home Alone' meets 'Coraline' — the perfect spine-tingler for 9- to 12-year-old readers."
—Richmond Times-Dispatch

"Thrilling and dark, this novel will leave tween readers asking themselves where imagination ends and madness begins."
—A Mighty Girl
 
"Compelling and mesmerizing, Brightwood is a dazzling middle grades read sure to captivate! Brightwood is everything a story should be . . . Highly, highly recommended for all middle grades and anyone who gets lost in a great story."
—Pamela Thompson, reviewer for the El Paso Times

"Brightwood is a fast-paced, exhilarating novel that keeps readers on their toes: terrified, entranced, angered and in love with the characters Unsworth creates . . . Brightwood addresses important values for children ages 10 and up, and teaches these values in ways that are both subtle yet graspable."
—Centered on Books
 
"Unsworth's beautiful and haunting descriptions bring Brightwood Hall to life and draw readers into Daisy's world. Young readers will be rooting for Daisy as she prepares to fight for her home and flee if necessary in this entrancing story that will keep everyone guessing till the very end."
—BNKIDSblog
 
"Tania Unsworth's Brightwood is like a fancifully crafted keepsake box from another era containing a perfectly contemporary sensibility. It's intrepid in exploring feelings of abandonment, orphanhood, peril and loss. Its new brand of magic is just right for today."
—CenterforFiction.org  
 
"Dive deep into the mysterious circumstances that besiege Brightwood . . . adventure awaits readers around every bend . . . a charming read."
—Independent Voice (Dixon, CA)
 
"Frighteningly beautiful."
—From the Mixed Up Files of Middle-Grade Authors