This Orq. (He Cave Boy.) (Hardcover)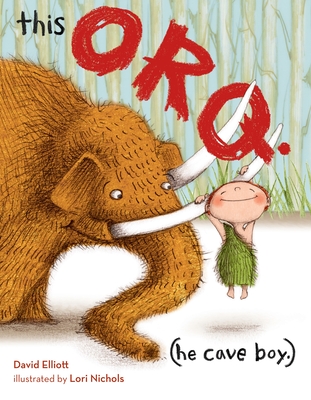 $18.66
Email or call for price
Description
---
Meet Orq, cave boy.  And Woma, woolly mammoth.  Orq love Woma.  Only one problem: Mom is not a fan.  Mom says Woma shed; Woma smell; Woma not house-trained. Is there any way Orq can convince his mom that Woma belongs with them? Orq has a plan. Well, kind of...

An adorable story about pet ownership with friendship story at its core, here's a picture book filled with humor and heart.
About the Author
---
David Elliott lives in New Hampshire with his wife and a Dandie Dinmont terrier who doesn't shed, doesn't smell, and is housetrained. Kind of. David is the author of the New York Times Best Seller And Here's to You! illustrated by Randy Cecil; a trio of poetry books about animals illustrated by Holly Meade (On the Farm, In the Sea, and the ALSC Notable Book for Children In the Wild); and the brilliantly funny Finn Throws a Fit illustrated by Timothy Basil Ering; as well as many other picture books and middle-grade novels. davidelliottbooks.com.

Lori Nichols grew up in Northwestern Pennsylvania surrounded by pets. Although Lori never had a wooly mammoth, she did convince her mother to let her have a parakeet, dog, cat, hermit crab, salamander, frog, and grasshopper. She lives in Birmingham, Alabama, with her husband, three daughters, and cat (Margaret) and is the author and illustrator of the picture book, Maple. lorinichols.com.
Praise For…
---
" . . . Elliott's tex, written with the awkward simplicity of movie "Indians" and cavemen, is hilariously effective and also apt to tickle and be understood by very young readers: 'This Orq. He live in cave. He carry club. He cave boy.' Nichols' digitally colored pencil illustrations are simple and slyly humorous. Offbeat and winning." -- Kirkus Reviews

" . . . Nichols's hilarious tongue-in-cheek illustrations provide a perfect counterpoint to Elliott's terse, faux cave-man vernacular. Drawn in pencil but digitally colored, each spread enhances the story with comic antics by Woma, Orq, and a family of prehistoric birds. . . A fun and winsome addition to any collection." -- School Library Journal

"Elliott's (In the Sea) humorously blunted, primitive language and gently shaded pencil drawings from Nichols (Maple) turn what might have been a predictable story about a boy's attempt to domesticate a woolly mammoth into a sparkling comic monologue. . . Rereadings will be clamored for, and the story will probably bring out the inner caveperson of everyone in the house." -- Publishers Weekly