Party, Politics, and the Post-9/11 Army (Paperback)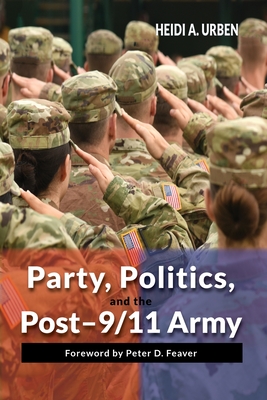 $71.08

Not in stock. Usually arrives in 2-5 Days
(This book cannot be returned.)
Description
---
*This book is in the Rapid Communications in Conflict and Security (RCCS) Series (General Editor: Dr. Geoffrey R.H. Burn).
Throughout the existence of the All-Volunteer Force, but chiefly since the 1990s, the military has faced charges of growing politicization.During periods of heightened partisan polarization-and the inevitable civil-military relations turmoil that ensues-such charges tend to be asserted more frequently, even if the term and what it might constitute remains vague.
While civilian political leaders on both sides of the aisle arguably bear much of the responsibility for any politicization of the armed forces, this book examines the extent to which those in uniform may have contributed to its gradual politicization and the erosion of the military's nonpartisan ethic.
Drawing upon original survey research of active-duty US Army officers conducted at various junctures over the past decade, this book explores the partisan and political attitudes of the officer corps. It examines the types of political activities officers engage in-including their expressed opinions on politics on social media-and whether such activities are in keeping with the norm of nonpartisanship and Department of Defense directives that govern political behavior. This data-rich volume includes more than 40 tables presenting helpful snapshots of information.
The book also explores how active-duty officers view politically outspoken retired flag officers, including whether the norm of nonpartisanship should extend into retirement. In addition, the book examines critical issues such as the impact of partisan political attitudes of officers on their views of civil-military relations, the roles senior military leaders and civilian policymakers should play during wartime, and the institution of the armed forces itself.
This book closes with recommendations for policymakers, along with an invaluable teaching resource for those in uniform today-a practical guide for how commanders can instill the nonpartisan ethic at the unit level, complete with recommended readings and proposed discussion questions. Given the scant attention paid to civil-military relations in formal professional military education settings, this guide is a helpful and valuable reminder that norms in any institution are only maintained through careful, continuous teaching and reinforcement.
Party, Politics, and the Post-9/11 Army is an important resource for military professionals and scholars and practitioners of civil-military relations, including senior military leaders and defense department officials. This book will be especially valuable for students enrolled in professional military education, particularly those attending senior service colleges, as well as students (both military and civilian) taking undergraduate- and graduate-level courses in national security studies.