Frommer's Easyguide to New York City 2020 (Paperback)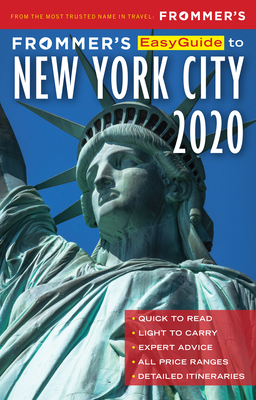 Description
---
Pauline Frommer's highly-personal guide to her own home city has, in previous editions, twice been named Best Guidebook of the Year by the North American Travel Journalists Association. It has been the best-selling guide to the city for the last five years. Though she deals with luxury choices as well as bargains, she makes a special effort to overcome New York's reputation for stratospheric prices, ferreting out scores of moderately-priced options in lodgings, meals, attractions, entertainment and more.
Like all Easy Guides, this annually-researched and popular best-seller is Quick to Read, Light to Carry--and colorfully written.
Fully updated yearly, printed in large, easy-to-read type, the book contains:
- Handy pull-out map and bulleted maps throughout
- Self-guided walking tours
- Star ratings that take value into account, and will help you find the right hotels, restaurants, nightspots and shops for you, in all price ranges
- Subway information for every listing in the guide, to help you get around quickly and easily
- Opinionated advice on what to see and what to skip
- Insightful discussions of New York's history and culture
- 16-page photo guide with vibrant photographs
About Frommer's: There's a reason Frommer's has been the most trusted name in travel for more than 60 years. Arthur Frommer created the best-selling guide series in 1957 to help American servicemen fulfill their dreams of travel in Europe, and since then, we have published thousands of titles, become a household name, and helped millions upon millions of people realize their own dreams of seeing our planet. Travel is easy with Frommer's.
About the Author
---
Pauline Frommer started traveling with her guidebook-writing parents at the age of four months and hasn't stopped since. She is the Editorial Director for the Frommer Guidebooks and Frommers.com, as well as author of what has been the bestselling guidebook to her hometown since its first edition. Her first job in travel was on the website Frommers.com, and eventually she worked her way up to Editor in Chief. Pauline also served as Travel Editor for MSNBC.com for several years, before working with John Wiley and Sons to create the award-winning Pauline Frommer Guidebooks, a 14-book series that won the coveted Best Guidebook of the Year title three years in a row from the North American Travel Journalists Association and once from the Society of American Travel Writers). For four years, Pauline created weekly travel segments for CNN's Headline News and CNN's Pipeline. You may also have seen her talking travel on The Today Show, Live with Regis and Kelly, The O'Reilly Factor, NBC Nightly News and ABC World News, Good Morning America, FOX News and every local news station you can name. Her writings have been widely published in everything from Budget Travel Magazine to the Dallas Morning News to Nick, Jr. magazine. She resides in New York City with her husband, Columbia University Professor Mahlon Stewart and two very well-traveled daughters.