Rod Carew: One Tough Out: Fighting Off Life's Curveballs (Hardcover)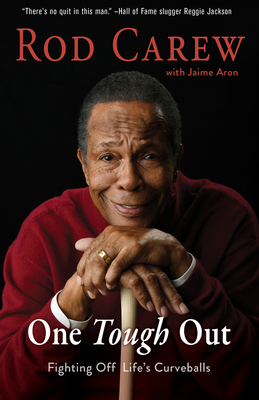 Description
---
"A heartfelt and moving memoir by one of baseball's greats" —Booklist 
An  unforgettable story of insight, inspiration, and faith 
For a generation of American League baseball fans, Rod Carew was the definition of "batting champion." An insecure boy from Panama raised by a brutal father, Carew ascended to baseball stardom, tormenting pitchers with a smooth swing from a crouched stance and winning seven batting titles on his way to the Hall of Fame. 
 
It wasn't until he lost his beautiful 17-year-old daughter to an aggressive and rare form of leukemia that Carew had to re-gather himself and find new purpose outside of baseball. Then he was struck with a near-fatal heart attack and discovered that the heart transplant he received came from a 29-year-old pro football player whom he happened to have met years before.  
Now the parents of Konrad Reuland listen to their son's heart beating strong in Carew's chest, and Carew works to honor his daughter's wish that he "make a difference." 
In One Tough Out, Carew reflects on the highlights, anecdotes, and friendships from his outstanding career, describing the abuse, poverty, and racism he overcame to even reach the majors. He also takes readers through the challenges he's conquered in the second half of his life, from burying his youngest daughter to surviving several near-fatal bouts with heart disease. 
At his most transparent and accessible, Carew's candid memoir demonstrates exactly what it means to have the heart of a champion. 
About the Author
---
Rod Carew is one of the most decorated players in Major League Baseball history. A first-ballot inductee into the Baseball Hall of Fame in 1991, Rod won seven batting titles and was named the 1967 AL Rookie of the Year and the 1977 AL Most Valuable Player en route to 3,053 career hits and 18 All-Star Game selections. He remains on the executive staffs of both the Minnesota Twins and Los Angeles Angels and is a strong supporter of the organizations that have meant so much to him: the American Heart Association, Donate Life, Be The Match, and the Pediatric Cancer Research Foundation. Jaime Aron was Texas Sports Editor for The Associated Press for 13 years and has written six previous books. He is a senior writer for the American Heart Association, living in Dallas with his family.
Praise For…
---
"Rod Carew was more than a great baseball player. He is a person of character and grace. Those qualities are evident in the way he has faced his life's many triumphs and considerable adversities." —Bob Costas, broadcaster

"Carew, now 74, puts a human touch into the book that extends beyond baseball and sports." —Minneapolis Star Tribune  

"Rod was one of the best pure hitters to ever play the game. His approach to every at-bat made him a tough out for opposing pitchers. I'm sure he will carry that same positive approach with the recent health issue he is facing." —Joe Torre, Hall of Fame manager

 "Hitting is an art form and this guy never made mistakes. In the dictionary of baseball, the definition of 'tough out' has his picture there, no words. He was an example of how to hang tough. Life for him was and is the same way. In tough seas, Rod will be a tough out to get." —Reggie Jackson, Hall of Fame slugger

"Woven throughout every story is God's redemptive plan and steadfast love." —Sports Spectrum 

"His batting titles came from dedication to honing his skills with a tremendous amount of intelligence and respect for his teammates and the game. His will to win inspired his teammates, and if it took a bunt, a triple, or a steal of home, he would do it. Rod will stare out at the situation and come up with his best. He is a classy man who has my respect and that of millions of other fans." —Johnny Bench, Hall of Fame catcher

"Often funny, sometimes sad and occasionally remarkable, just like Carew's extraordinary life. Certain aspects of his story you can't even make up." —Duluth Tribune 

"Rod Carew's success on the baseball field is well-documented. He was Rookie of the Year in 1967 and MVP in 1977, won seven batting titles, accumulated 3,053 career hits, and, in 1991, was voted into the Baseball Hall of Fame on the first ballot. Yet despite all those achievements, his true legacy is what he has accomplished off the field—first, in helping to battle childhood cancers, and, now, putting a very personal face on heart disease." —Armen Keteyian, Contributor to 60 Minutes and coauthor of Tiger Woods 

"What Carew has done is put together an all-star book to tell his story of sacrifice and hard work." —Religion Unplugged 

"Reading about Carew's career, his grief over losing his daughter, his faith and strength during his near-death experience, and his love for his wife and her children...as well as the family of his donor will leave the reader inspired and joyful. The manner in which he fought off "curveballs," whether in the batter's box or for bigger issues in his life, is an inspiring story that any reader will enjoy." —Lance, Goodreads