Lunch Witch #2: Knee-deep in Niceness (The Lunch Witch #2) (Paperback)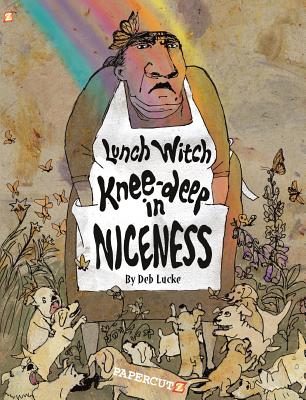 Other Books in Series
This is book number 2 in the The Lunch Witch series.
Description
---
Grunhilda the Witch has a weakness…a tiny soft spot on her black and crusty heart. She continues to hide the nice feelings she has when she gets a letter from former Salem Elementary student Madison. But she can't keep up the ruse for long because her familiars are onto her…and so are her ancestors! The familiars search her hovel and find her collection of letters from Madison. Mr. Williams has a solution, but it involves making a meanness potion from the book that IS-NOT-TO-BE-USED-BY-ANYONE-OTHER-THAN WITCHES
(ESPECIALLY-NOT-WITCHES'-PETS). But anything that can go wrong does when he accidentally mixes up a positivity potion instead…and it starts to affect everyone in town. Birds are singing. Flowers are growing. The principal cancels school! Grunhilda hurries to mix up a potion to fix the town, her familiars, and her own black crusty heart before the positivity succeeds in making everything bright and cheerful.
About the Author
---
Deb Lucke is a writer and illustrator of children's books with an interest in bad behavior and horribly embarrassing incidents. Since her own childhood had plenty of both she is never short of material.
Prior to getting involved in children's books Deb worked with a lot of talented people in advertising from whom she learned how to trap and snare an idea. She also studied filmmaking which influenced the way she visually tells her stories. She finds camaraderie in a group of children's book illustrators that meets in the Hudson Valley and a group of writers that meets in New York.
Deb lives and works in Cold Spring, NY with her partner, Paul Hartzell, a writer. Both are occasionally badly behaved.
Praise For…
---
"A wickedly funny start to this series." – PUBLISHER'S WEEKLY
"Truly, far too often school lunch ladies get a bad rap. In this case, it's justified, and stout-stomached readers who have always suspected the truth should enjoy seeing how." – KIRKUS REVIEWS
A GRAPHIC NOVEL REPORTER Winter Bookshelf Pick
"At 180 pages, this graphic novel has enough room to pack a great story into its pages!" – THIS KID REVIEWS BOOKS
"Irresistibly charming." – BOOKLIST
"This will be a great addition to any collection. Middle grade readers will devour this title." – GOOD COMICS FOR KIDS
"The misadventures of this witch will have no problem pulling readers in." – SCHOOL LIBRARY JOURNAL
"For those who like gross stories and nasty characters getting a swift comeuppance with an unexpected underdog coming out on top." – JEAN LITTLE LIBRARY
"Graphic novel girl power, with a witch twist" – DADDY MOJO
"This enduring and heartfelt tale is appropriate for all ages looking for a cute and humorous look at the ever mysterious lunch lady character archetype" – DIAMOND DAILY
"Can a witch do a good thing and still be bad? Can a little girl do a bad thing and still be good? But more importantly, can black humor still make readers feel good? (Hint: yes.)" – INDIANA GAZETTE
"It does not need to be Halloween to enjoy The Lunch Witch. Deb Lucke's characters will charm kids with their humor and crazy situations any day of the year." – KID LIT REVIEWS