Tinderbox: The Untold Story of the Up Stairs Lounge Fire and the Rise of Gay Liberation (Hardcover)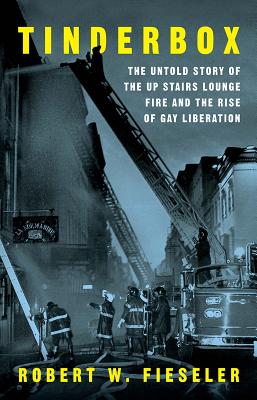 $26.95
Email or call for price
Description
---
Winner • Edgar Award (Best Fact Crime)

Winner • Lambda Literary's Judith A. Markowitz Award for Emerging LGBTQ Writers

Finalist • Housatonic Book Award (Nonfiction)

Finalist • Randy Shilts Award for Gay Nonfiction

A Stonewall Honor Book in Nonfiction (American Library Association)

Best Book of the Year: Kirkus Reviews, Library Journal and Shelf Awareness
An essential work of American civil rights history, Tinderbox mesmerizingly reconstructs the 1973 fire that devastated New Orleans' subterranean gay community.
Buried for decades, the Up Stairs Lounge tragedy has only recently emerged as a catalyzing event of the gay liberation movement. In revelatory detail, Robert W. Fieseler chronicles the tragic event that claimed the lives of thirty-one men and one woman on June 24, 1973, at a New Orleans bar, the largest mass murder of gays until 2016. Relying on unprecedented access to survivors and archives, Fieseler creates an indelible portrait of a closeted, blue- collar gay world that flourished before an arsonist ignited an inferno that destroyed an entire community. The aftermath was no less traumatic—families ashamed to claim loved ones, the Catholic Church refusing proper burial rights, the city impervious to the survivors' needs—revealing a world of toxic prejudice that thrived well past Stonewall. Yet the impassioned activism that followed proved essential to the emergence of a fledgling gay movement.
Tinderbox
restores honor to a forgotten generation of civil-rights martyrs.
About the Author
---
Robert W. Fieseler is a recipient of the Pulitzer Traveling Fellowship and the Lynton Fellowship in Book Writing. A writer for Buzzfeed, Narratively, and elsewhere, he currently resides in New Orleans.
Praise For…
---
It's indescribably moving to learn in a final author's note that survivors hesitant to speak on the record for Tinderbox came forward with urgency after the Pulse massacre. Their testimonies, Fieseler's rigorous research and his amiable prose make this a vital, inspiring volume in the annals of gay history.

— Dave Wheeler, Shelf Awareness, "Best Books of the Year"

In his impressive, meticulously reported debut as a nonfiction author, Robert Fieseler vividly re-creates the world that produced a galvanizing tragedy, a fire at a New Orleans bar in the summer of 1973 that took thirty-two lives. In reminding us of the furtiveness of gay life even in a tolerant city, and of the official culture's hostility to it, Tinderbox is riveting and unforgettable.
— Nicholas Lemann, author of The Promised Land

Fieseler handles contradictions with finesse, parsing the closet's long shadow over gay life in New Orleans, one reason the [Up Stairs Lounge] tragedy did not catalyze the kind of outrage and activism that followed the Stonewall rebellion.... The book is loving, sensitive, and diligent.
— Parul Sehgal, New York Times

Very moving.... Eloquent... haunting. The structure reminds one of Thornton Wilder's classic novel The Bridge of San Luis Rey, in which the individual fates of a disparate group of people united by a bridge collapse are described.... The description of the fire, pieced together bit by bit from interviews with survivors and archival research, is so painstakingly done.... The heart of this book concerns the individual stories Fieseler has assembled. These make his book far more than just a history of gay rights; they make it an infinitely sad portrait of what these people went through.

— Andrew Holleran, The Gay & Lesbian Review

This vital book chronicles one of the worst outrages against gay people in modern America, and it does so with fantastic vividness. It restores a forgotten chapter of horror to our national narrative of rights. Robert W. Fieseler reminds us how deep prejudice was, not only on the part of the man who set the fire at the Up Stairs Lounge, but also in the media that ignored the story and the population that took no interest in it.
— Andrew Solomon, author of The Noonday Demon

Fieseler unflinchingly recounts the fire and sets it firmly in the context of the times.
— Bill Daley, Chicago Tribune

Robert W. Fieseler has given us a profoundly moving and deeply researched reminder of the tragic and ghastly costs of bigotry, silence, and the closet. We must never go back. Tinderbox is more than a memorial. It is a call for our ongoing struggle to build movements for love and dignity for everyone everywhere.

— Blanche Wiesen Cook, author of Eleanor Roosevelt, Volumes 1–3

This book provides a vivid portrait of the hardscrabble lives of the dishwashers, grocery clerks, soldiers, and other working men for whom the Up Stairs Lounge became a sanctuary, and then a heart-wrenching reconstruction of the horrifying hour it turned into a deathtrap. Its account of the aftermath of this tragedy is equally illuminating—and sobering.
— George Chauncey, Columbia University, author of Gay New York

Tinderbox is a work of enormous significance that announces the arrival of a gifted new author. Robert Fieseler writes with acuity and compassion about mythic themes—love, faith, death, grief. And as he does so, he chronicles an essential event in gay history, the tragic fire that propelled the movement for social and legal equality.

— Samuel Freedman, author of Breaking the Line

As in a Shakespearean tragedy, the ghosts of the closeted and disrespected dead resurrect to tell their stories in Robert Fieseler's Tinderbox. Compassionately written and extraordinarily reported, the book demonstrates that memory is a life-affirming force that can triumph over the injustices of death. Tinderbox will likely take its place in the canon of the history of gay rights in America.
— Ronald K. L. Collins, University of Washington Law School, coauthor of Mania: The Story of the Outraged and Outrageous Lives That Launched a Cultural Revolution

Fieseler's work is an essential piece of historical restitution that takes us from 1973 to 2003, when homosexuality was finally decriminalized in Louisiana. Powerfully written and consistently engaging, the book will hopefully shed more light on the gay community's incredible and tragic journey to equality. A momentous work of sociological and civil rights history.
— Kirkus Reviews, "Best Books of the Year"

A vivid, fast-paced, and essential LGBTQ and social history.
— Library Journal [Starred Review]