Breadsong: How Baking Changed Our Lives (Hardcover)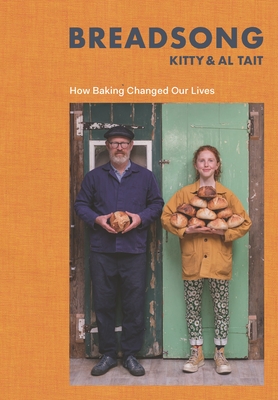 $30.00

Not in stock. Usually arrives in 2-5 Days
Description
---
James Beard Awards 2023 nominee - Bread category
Shortlisted for the 2023 Andre Simon Best Cookbook Award

A cookbook full of heart that explores the redemptive power of baking.

Kitty Tait grew up a funny, chatty redhead who made everyone in her family laugh. But around the time she turned 14, Kitty began experiencing anxiety. Slowly, she disconnected from everyone around her and struggled to wake up, get dressed, and leave the house. Full of worry, her parents tried everything, from new hobbies like reading and painting to medication and visits to a specialist. Nothing seemed to help.

Then, one day, as Kitty stood on a stool watching her dad mix flour, water, and salt, she determined Al's gloopy, sludgy blob of bread looked a whole lot like her brain. The next day, peaking under the tea towel as the mix gently bubbled and popped, Kitty came to a stunning realization: bread is alive. Al asked Kitty if she'd like to try baking bread herself, and their lives were never the same again. One loaf quickly escalated into an obsession, and Kitty felt better than she had for a long time. Within nine months, Kitty and Al opened The Orange Bakery--and they haven't stopped since.

Featuring more than 80 recipes—including cinnamon buns, cheese swirls, and tahini brownies—Breadsong is a celebration of bread and baking, and an inspiring story of the life-saving power of discovering a passion.
About the Author
---
Kitty Tait and her Dad Al live in Watlington, Oxfordshire and between them run the Orange Bakery. From the most original flavoured sourdough (miso and sesame, fig and walnut) to huge piles of cinnamon buns and Marmite and cheese swirls, the shop sells out every day and the queues stretch down the street. In 2018, Kitty was at school and Al worked at Oxford University, but when Kitty became so ill she couldn't leave the house, the two discovered baking and, in particular, sourdough. Chronicled in Kitty's Instagram @kittytaitbaker they went from a small subscription service to pop ups to a shop – all in two years. Along the way Kitty got better, a Corgi got involved and Al realised that he was now a baker not a teacher.
Praise For…
---
"In this uplifting work, the British dad-and-daughter duo behind Oxfordshire's Orange Bakery fold innovative recipes into a moving testament to the healing power of baking . . . Kitty's passionate creativity is as irresistible as her creations. Bakers will have no trouble devouring every bit." —Publishers Weekly

"Tenacity and passion permeate Breadsong, a moving, life-affirming memoir and recipe book by Kitty and Al Tait that celebrates the joys of bread-based baking . . . The family's amazing story is alchemized with equal amounts of inspiration and deliciousness." - Shelf Awareness

"[Kitty and Al Tait's] story is as heartwarming as it gets, accentuated by Kitty's lively voice and infectious grin splashed across the pages along with her dad's adorable illustrations. There's a recipe for a caramel-covered Happy Bread here, which says a lot about this joyful book." - BookPage