The Madness of Crowds: Gender, Race and Identity (Paperback)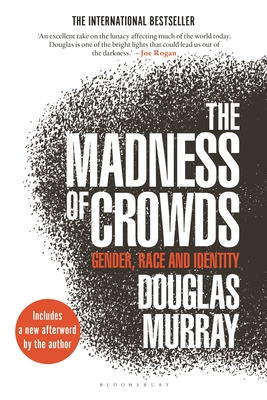 $20.00

Not in stock. Usually arrives in 2-5 Days
Description
---
THE SUNDAY TIMES BESTSELLER
Updated with a new afterword

'Douglas Murray fights the good fight for freedom of speech ... A truthful look at today's most divisive issues' – Jordan B. Peterson

'An excellent take on the lunacy affecting much of the world today. Douglas is one of the bright lights that could lead us out of the darkness.' – Joe Rogan

Are we living through the great derangement of our times?

In The Madness of Crowds Douglas Murray investigates the dangers of 'woke' culture and the rise of identity politics. In lively, razor-sharp prose he examines the most controversial issues of our moment: sexuality, gender, technology and race, with interludes on the Marxist foundations of 'wokeness', the impact of tech and how, in an increasingly online culture, we must relearn the ability to forgive.

One of the few writers who dares to counter the prevailing view and question the dramatic changes in our society – from gender reassignment for children to the impact of transgender rights on women – Murray's penetrating book, now published with a new afterword taking account of the book's reception and responding to the worldwide Black Lives Matter protests, clears a path of sanity through the fog of our modern predicament.
About the Author
---
Douglas Murray is an author and journalist based in Britain. His latest book, The Strange Death of Europe: Immigration, Identity, Islam, was published by Bloomsbury Continuum in May 2017. It spent almost 20 weeks on the Sunday Times bestseller list and was a No. 1 bestseller in non-fiction. It has subsequently been published in more than 20 languages worldwide and has been read and cited by politicians around the world. The Evening Standard described it as, 'By far the most compelling political book of the year.'

Murray has been a contributor to the Spectator since 2000 and has been Associate Editor at the magazine since 2012. He has also written regularly for numerous other outlets including the Wall Street Journal, The Times, The Sunday Times, the Sun, Evening Standard and the New Criterion. He is a regular contributor to National Review and has been a columnist for Standpoint magazine since its founding.
Praise For…
---
"Simply brilliant. Reading it to the end, I felt as though I'd just drawn my first full breath in years. At a moment of collective madness, there is nothing more refreshing – or, indeed, provocative – than sanity." —Sam Harris, author of five New York Times bestsellers and host of the Making Sense podcast.

"An excellent take on the lunacy affecting much of the world today. Douglas is one of the bright lights that could lead us out of the darkness." —Joe Rogan

"Douglas Murray fights the good fight for freedom of speech ... A truthful look at today's most divisive issues" —Jordan B. Peterson, bestselling author of 12 Rules for Life

"[Murray's] latest book is beyond brilliant and should be read, must be read, by everyone. He mercilessly exposes the hypocrisy and embarrassingly blatant contradictions that run rife through the current 'woke' vogue." —Richard Dawkins

"Whether one agrees with him or not, Douglas Murray is one of the most important public intellectuals today." —Bernard-Henri Lévy

"How can you not know about The Madness of Crowds? It's actually the book I've just finished. You can't just not read these books, not know about them." —Tom Stoppard

"An abomination" —Titania McGrath, author of Woke: A Guide to Social Justice

"This is an author who specialises in expressing what everyone sort of knows already and is afraid to say ... well argued, well supported and well observed" —Lionel Shriver, The Times

"Graceful and witty" —Guardian

"Necessary and provocative" —Evening Standard

"Impressive and lively … Murray's comprehensive survey of the prevailing madness will not persuade every reader. But it raises the real questions of our times." —Roger Scruton, Unherd

"Murray's book performs a great service" —Financial Times

"Fascinating … Much of what Murray writes is pertinent and hard to disagree with" —Sunday Times

"Murray is a superbly perceptive guide through the age of the social justice warrior" —Daily Telegraph

"Murray's book raises urgent questions about how people should conduct themselves in today's age of "wokeness"'" —Catholic Herald