Strangely Dim: Discovering God's Light When Your Commitment to Him Leaves You in the Dark (Paperback)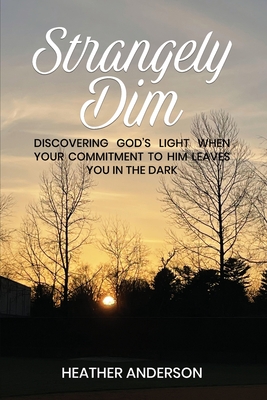 $26.84

Not in stock. Usually arrives in 2-5 Days
(This book cannot be returned.)
Description
---
When Heather Anderson's husband, Josh, left his professional baseball career in obedience to Christ's calling, years of pain and brokenness followed. Not only did God require Josh to die to himself, but Heather also experienced a pouring out. Together, however, they learned that being separated from your dream doesn't mean you've separated from God. Through the pages of Strangely Dim you will:
% Take active steps to mend your relationship with God.
% Restore your trust in God when He changes your circumstances.
% Gain confidence to speak with the Lord after you've been disappointed.
% Overcome the urge to shrink back from your mission when your purpose is unclear.
% Discover satisfaction in your new phase of life.
Strangely Dim reveals the necessity to return to your first love. Personally experiencing the Lord is how you obtain His light, because in Him there is no darkness. Your pain will grow dim in the light of your commitment and God's glory.
Endorsement:
Because the light of God's goodness is sometimes overshadowed by the dim realities of broken dreams and private anguish, Heather Anderson has written a deeply personal guide with the singular goal of helping us find our way again. She writes, not as a spectator from the stands, but as an active participant on the field of adversity. Her biblical insights will instruct you even as the story of her family inspires you. Read this book to be better prepared for the darkest days of your life.
-Adam B. Dooley, senior pastor, Englewood Baptist Church, Jackson, Tennessee, and author of Hope When Life Unravels.
Not only did I enjoy the love story between Heather and Josh Anderson, but I also was drawn to the life lessons she has drawn from their lives. I appreciated Heather's transparency as well as the reminder that being separated from our dreams does not mean we are separated from God.
-Mike Yorkey, co-author of Out of the Wilderness and At First Light
About the Author:
Heather Anderson, a breast cancer survivor, lives in Eubank, Kentucky with her husband Josh, a former Major League Baseball player, along with their son and daughter. Heather is a writer as well as an educator. After teaching for five years, she became an elementary instructional coach. She has earned degrees from Eastern Kentucky University and the University of the Cumberlands. She and her family enjoy living in the country and spending time together with their two Goldendoodles. Follow her on Instagram @ _heatheraanderson. Email: joshandheather10@gmail.com.