The Book of Catitudes: Dubious Wit & Wisdom from Cats (Hardcover)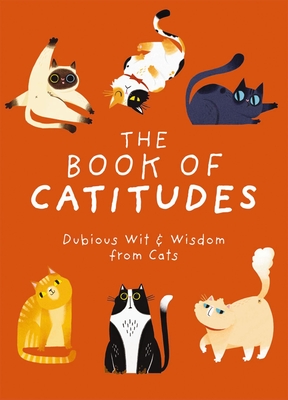 $9.99

Not in stock. Usually arrives in 2-5 Days
Description
---
This hilarious and adorable collection of cats highlights the quirky behaviors of your favorite furry friends.

They leave dead animals on your doorstep. They intentionally knock everything off of your countertops. They leave scratch marks on your nice furniture and attack your calf muscles. They sleep on your laptop when you're using it. They somehow get hair on every single article of clothing you own, and then some. They are the epitome of sass and poise. But behind that aloof personality and penetrating stare are the wonderful cats we all love. This book chronicles the baffling behavior and ever-changing attitudes of these fuzzy felines with 50 comical photographs and illustrations. From cats who think they're mountain lions to the ones who are plotting to take over the world, the temperaments of these grumpy and (somewhat) affectionate animals will be recognized by cat lovers everywhere. Whether you have a cat who is capable of incredibles feats of acrobatics, or one who makes a habit of crashing straight into walls (or one who does both just a few minutes apart), this book captures the secret inner workings of your cat's brain. Purr-fect for crazy cat parents and anyone else who is owned by a cat, these lovable, playful, ridiculous, and slightly unhinged cats will have all readers laughing.
About the Author
---
Good ideas ripen with time. From seed to harvest, Cider Mill Press brings fine reading, information, and entertainment together between the covers of its creatively crafted books. Our Cider Mill bears fruit twice a year, publishing a new crop of titles each spring and fall.