The Essential Anime Baking Book (Hardcover)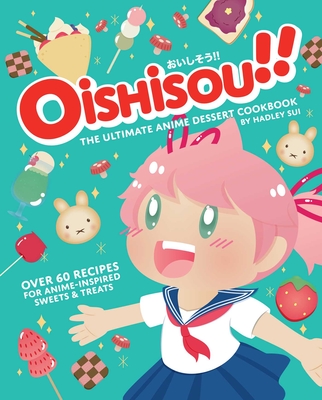 Description
---
Bake your way through the colorful world of anime with over sixty recipes inspired by your favorite Japanese shows, movies, and graphic novels.

The world of anime comes to life in the kitchen with this adorable cookbook featuring over sixty recipes inspired by the style, culture, and motifs of the iconic Japanese art form. Recipes include Japanese favorites like anpan and melonpan, memorable dishes depicted in popular shows (such as Rare Cheesecake from Cardcaptor Sakura: Clear Card), and foods inspired by classic anime tropes and imagery. Eagle-eyed fans will be delighted to create and savor sweets and treats based on their beloved shows, as well as spot clever baked homages to some of their favorite characters and moments. Featuring gorgeous food photography, The Anime Baking Book is the perfect gift for foodies, lovers of Japanese culture, and anime fans everywhere.

60+ RECIPES: Dozens of recipes for delicious and colorful dishes from breakfast to dinner, family meals to party fare, after-school snacks to show-stopping desserts.

CUTENESS OVERLOAD: Learn to make adorable food inspired by fan-favorite anime shows.

FOR BEGINNERS AND BEYOND: Easy-to-follow instructions make it easy for chefs of every skill level to make anime-inspired recipes.

FILLED WITH PHOTOS: Inspiring food photography helps ensure success!
About the Author
---
Hadley Sui is a Brooklyn-based food stylist, pastry chef, and recipe developer. A gap year spent
living with host families and attending high school in Yoshikawa, Japan, resulted in her lifelong
love of Japanese culture and prompted her to earn a degree in International Studies from the
University of Chicago as well as a certificate from that city's French Pastry School. Her pastry
brand, Hadley Go Lucky, has been featured in pop-ups throughout New York City, and she has
also appeared as a guest chef for the Japan Arts Foundation's Tokyo House Party program. The
Essential Anime Baking Book represents the culmination of Hadley's favorite pastry recipes
inspired by both anime and her own experiences in Japan.