DASH Diet Meal Prep: 100 Healthy Recipes and 6 Weekly Plans (Paperback)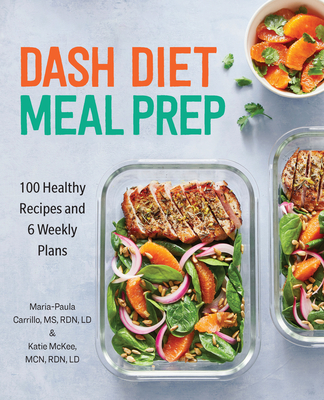 $16.99
Email or call for price
Description
---
Lower your blood pressure and lose weight with easy meal prep for DASH dieters
How do you improve on the heart-healthy DASH (Dietary Approaches to Stop Hypertension) diet? By making it faster and easier with meal prep.
This DASH diet cookbook offers a simple and sustainable approach to DASH dieting, complete with an actionable, step-by-step plan and 6 weeks of delicious meal preps. Find detailed prepping and cooking instructions, shopping lists, and a clear overview of what makes the DASH diet so effective.
Make mealtime easy for DASH dieters on the go with:
DASH basics―Learn the science behind the DASH diet and why it's a favorite among health professionals.
Quick and easy recipes―Streamline your time in the kitchen with 100 healthy recipes, including adaptation tips and portion size guidance.
Flexible meal plans―Each meal prep is easy to customize and DASH diet-friendly so you can tailor your meals to your preferences.
Boost weight loss and improve your heart health with
DASH Diet Meal Prep
.
About the Author
---
Maria-Paula Carrillo, MS, RDN, LD, is a private practice dietitian and the owner of LifeCycle Nutrition in Allen, Texas. Day after day, she focuses on translating the science of nutrition into practical information her patients and clients can use.

"
Katie McKee, MCN, RDN, LD, is a nutrition communicator, writer, editor working for Dairy MAX. She is a registered dietitian nutritionist and director of health and wellness, focusing on simplifying science and empowering people to make small, healthy, sustainable changes.
"
Praise For…
---
"Katie and Maria Paula do a wonderful job showcasing a quick and easy roadmap for the DASH lifestyle. Love the simplicity of the recipes and practical approach to meal planning and prep for busy families. This book is a winner for anyone wanting a no-nonsense, healthy eating plan." —Cindy Kleckner, RDN, LD, FAND, Author of DASH Diet For Dummies and Hypertension Cookbook For Dummies

"This versatile diet includes all the food groups and foods you already enjoy. The meal plans make planning your weeks easier, and the recipes like Super Simple Granola, Mushroom Bolognese, and Pistachio-Crusted Tilapia are simple and delicious. Whether you're looking to eat healthier or lose weight, DASH Diet Meal Prep can help you do so!" —Toby Amidor, MS, RD, CDN, FAND award-winning nutrition expert and Wall Street Journal best-selling author of The Healthy Meal Prep Cookbook and Smart Meal Prep for Beginners

"Easy homemade meals are totally within reach with this book of well-structured plans to get a week's worth of meals on the table with just a few hours of prep. Don't want to think about 'what's for dinner' for a whole week? Maria-Paula and Katie have you covered with yummy recipes and simple strategies to succeed in reaching your health goals—all by eating the DASH Diet way." —Serena Ball, MS, RDN, author of Easy Everyday Mediterranean Diet Cookbook and The 30-Minute Mediterranean Diet Cookbook, blogger at Teaspoon of Spice

"As a dietitian and diabetes educator who has practiced for more than 25 years, I have always said that the DASH diet is the best diet ever, for anyone and everyone! And now, with the help of this book, people will be able to put this wonderful diet into practice and easily make it a way of life." —Melissa Joy Dobbins, MS, RDN, CDE

"With their new book, Dash Diet Meal Prep: 100 Healthy Recipes and 6 Weekly Plans, registered dietitians Maria-Paula Carrillo and Katie McKee offer a simple, tasty guide to incorporate the popular DASH diet into your family's daily meals. The beautiful photos alone are enough to inspire you to start cooking! As a registered dietitian, I know time is a big reason many folks don't cook and opt for dining out, drive-through, or home-delivered meals. Like most people, I'm pressed for time so I love the way they've made it so easy to put great-tasting, healthy meals on the table. They not only provide recipes but also step-by-step instructions to prepare several meals on the weekend so they're ready to go for breakfast, lunch, and dinner the next week. And the ingredients are well-liked, readily-available foods that make meal prep a snap. I'm so excited to have and recommend this book!" —Neva Cochran, MS, RDN, LD