Fix-It and Forget-It Cooking Light for Slow Cookers: 600 Healthy, Low-Fat Recipes for Your Slow Cooker (Spiral bound)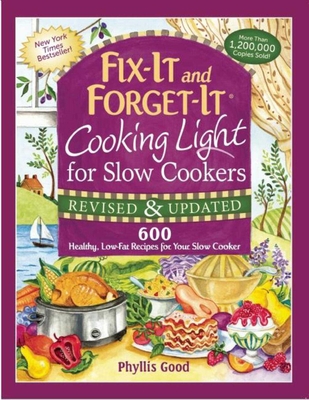 $20.99
Email or call for price
Description
---
Millions of home cooks have fallen in love with the Fix-It and Forget-It cookbooks since the first title was released more than a dozen years ago. Now, these same beloved cookbooks are available in a larger format, making the recipes easier than ever to follow!

This favorite guide to quick and easy-to-prepare slow-cooker food has sold more than 1 million copies. It is possible to have it all: food from your slow cooker that is scrumptious and low-fat, and convenient to make.

Here are 600 recipes that are mouth-watering but guilt-free. Now you can choose healthy, light dishes, fix them quickly, and then forget about them until mealtime. With each recipe in Fix-It and Forget-It Lightly: Revised and Updated, comes an analysis of its calories, fats, and carbs, as well as what it contributes to your daily vitamins and nutrients. You can feast healthfully—with a minimum of time and fuss. Your family and friends—your waistline and your heart—will thank you.

Skyhorse Publishing, along with our Good Books and Arcade imprints, is proud to publish a broad range of cookbooks, including books on juicing, grilling, baking, frying, home brewing and winemaking, slow cookers, and cast iron cooking. We've been successful with books on gluten-free cooking, vegetarian and vegan cooking, paleo, raw foods, and more. Our list includes French cooking, Swedish cooking, Austrian and German cooking, Cajun cooking, as well as books on jerky, canning and preserving, peanut butter, meatballs, oil and vinegar, bone broth, and more. While not every title we publish becomes a New York Times bestseller or a national bestseller, we are committed to books on subjects that are sometimes overlooked and to authors whose work might not otherwise find a home.
About the Author
---
Phyllis Good is a New York Times bestselling author whose books have sold more than 12 million copies. She is the original author of the Fix-It and Forget-It cookbook series, Lancaster Central Market Cookbook, Favorite Recipes with Herbs, and The Best of Amish Cooking. Her commitment is to make it possible for everyone to cook who would like to, whatever their age. Good spends her time writing, editing books, and cooking new recipes. She lives in Lancaster, Pennsylvania.