Beautiful Booze: Stylish Cocktails to Make at Home (Hardcover)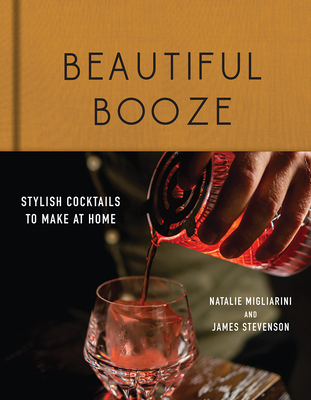 Description
---
Shaken, stirred, clarified, layered, floral, and more, these gorgeous cocktails taste as good as they look
Cocktail alchemy—the sweet, sour, bitter, booze—is magic in the hands of self-taught mixologist Natalie Migliarini. Sure, her story is the classic "girl-quits-job-to-pursue-passion-(cocktails)-starts-website-(Beautiful Booze)-leads-to-book-(yes, this one)." But these beautiful drinks are the result of a real immersion in the craft of building cocktails. Based on a solid foundation of research and feel for cocktail trends, Beautiful Booze is an instant classic. Readers can prepare these drinks at home, using available ingredients and simple tools.
Great cocktails elevate every occasion from ordinary to amazing. Here you'll find recipes for mainstays like the Bloody Mary Bar Cart, as well as old-made-new cocktails like a Créme de la Colada, Limoncello Daiquiri, and Lavender Fizz. Vibrant photographs make reading this book almost as much fun as mixing its drinks.
About the Author
---
Natalie Migliarini is a home bartender, cocktail stylist, photographer, and recipe developer. She creates and photographs original cocktail recipes from the perspective of a home bartender. In 2013, she decided to chase her passion for cocktails and start the Beautiful Booze website.

James Stevenson is an industry professional who has been working in bars for over 13 years. From bar backing to bar management, he took his expertise to the internet when he joined Beautiful Booze in 2015 as Managing Director.