Mickey All-Stars (Hardcover)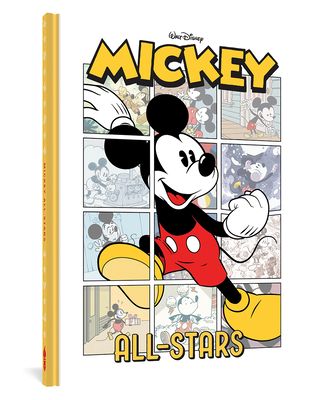 Description
---
In this once-in-a-lifetime storytelling achievement, more than 40 acclaimed comics creators from around the world celebrate Mickey's wildest adventure!
Star artists from around the globe each draw a chapter of Mickey's wildest adventure — from Giorgio Cavazzano (
Disney Masters
) to Mike Peraza (
Mickey's Christmas Carol
) to Marco Rota, plus dozens more! While celebrating his birthday at a carnival, Mickey crosses the threshold of a fortune-teller's mystic portal and finds himself flung headlong into an amazing journey. He encounters one phantasmagorical dimension after another — a fractured fairy tale kingdom, a cubist realm, and outer space — with plenty of dragons, mummies, and giant mouse-eating plants along the way. (Not to mention alternate versions of Goofy, Peg Leg Pete, and the Phantom Blot!) Can Mickey get back? How deep does this rabbit hole — er, mouse hole — go?
About the Author
---
Mike Peraza is an art director, layout artist, conceptual artist and an animation historian. He has worked for Walt Disney Company, Fox Features, and Warner Brothers.

Marco Rota is an Italian comic artist who started his career drawing adventure comics for Dardo publishers. He served as an editor-in-chief for Disney Italia from 1974 to 1988.

Nicolas Kéramidas studied animation at the Gobelins School of Images, then went on to nine years of animation work at Disney's Montreuil studio. More recently, Kéramidas was the artist for Luuna, which won the Youth Prize at the 2004 Angouleme International Comics Festival.

Giorgio Cavazzano (b. 1947) is an Italian cartoonist and one of the most famous Disney comics artists in the world. He is recognized for bringing his outrageous energy, emotive characters, and wild "techno" style defining the modern expressive Italian style of Disney comics.
Praise For…
---
A total delight with high appeal for children and adult readers alike.
— Library Journal (Starred Review)

Mickey All-Stars is a fun artistic journey and an easy recommend for Disney comic fans and fans of the mouse.

— School Library Journal

Frantic, frenzied fun for one and all. Everything you could dream of and so much more…
— Comics Review