Godzilla: World of Monsters (Paperback)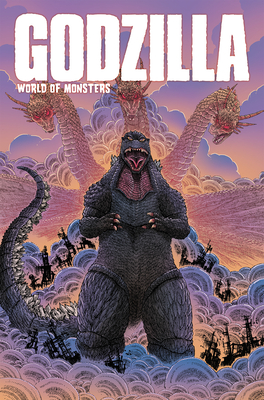 $29.99
Coming Soon - Available for Pre-Order Now
Description
---
Monsters rule the world in this compendium collecting three graphic novels--Gangsters & Goliaths, Cataclysm, and Oblivion!

In Gangsters & Goliaths by John Layman and Alberto Ponticelli, Detective Makoto Sato is on a quest to bring down the Takahashi crime syndicate but Sato's efforts earn him a one-way trip to a tropical getaway, courtesy of the Tokyo criminal underworld--MONSTER ISLAND! Alone and facing death at the hands of both gangsters and goliaths, Sato must use his wits to survive--and enlist the aid of some unusual friends.

In Cataclysm by Cullen Bunn and Dave Wachter, years have passed since a monster apocalypse nearly destroyed mankind. Now it is merely a distant, nightmarish memory for Hiroshi, an elder in one of the few remaining tribes of humans. Little does Hiroshi know that the apocalypse is not over, and that his memories of the past may yet save the future!

In Oblivion by Joshua Fialkov and Brian Churilla, a scientist has created a portal to another dimension--one where monsters rule supreme! An expedition begins into a world where hope has died and Godzilla is the unrivaled King of the Monsters. But what happens when a baby kaiju hitches a ride back to the original, monster-less dimension?
About the Author
---
John Layman is the creator, writer and letterer of Chew, the New York Times best-selling, Harvey Award and multi-Eisner Award winning cannibal cop comedy series. Layman was an editor for WildStorm Productions and has written or lettered for every major publisher in comics for the last decade and a half. He's written Cyclops, Detective Comics, Mars Attacks, Godzilla, Aliens, Thundercats, Gambit, Scarface, Red Sonja, Marvel Zombies Vs. Army of Darkness, House of M: Fantastic Four, the Marvel Identity Wars Annuals, Stephen Colbert's Tek Jansen... and a whole lotta other stuff. He's currently the writer of Leviathan with artist Nick Pitarra and Outer Darkness with artist Afu Chan.

Cullen Bunn is a comic books writer, novelist, and short story writer. He is best known for his work on comic books such as his Uncanny X-Men and various Deadpool miniseries for Marvel Comics, and his creator-owned series The Damned and The Sixth Gun for Oni Press, as well as his middle reader horror novel Crooked Hills, and his short story work collection Creeping Stones & Other Stories.