Lean on Me (Family Is Forever) (Paperback)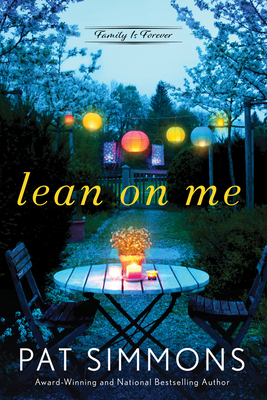 $12.99
Email or call for price
Other Books in Series
This is book number 1 in the Family Is Forever series.
Description
---
First in an emotional African American Christian romance from acclaimed inspirational author Pat Simmons featuring a tender-hearted heroine who puts her family first and a misguided hero who needs a little nudge to realize that sometimes all you have to do is believe.
No one should have to go it alone…
Tabitha Knicely believes in family before everything. She may be overwhelmed caring for her beloved great-aunt, but she would never turn her back on the woman who raised her, even if Aunt Tweet's dementia is getting worse. Tabitha is sure she can do this on her own. But when Aunt Tweet ends up on her neighbor's front porch, and the man has the audacity to accuse Tabitha of elder abuse, things go from bad to awful.
Marcus Whittington feels a mountain of regret at causing problems for Tabitha and her great-aunt. How was he to know the frail older woman's niece was doing the best she could? As Marcus gets to know Aunt Tweet and sees how hard Tabitha is fighting to keep everything together, he can't walk away from the pair. Particularly when helping Tabitha care for her great-aunt leads the two of them on a spiritual journey of faith and surrender.
About the Author
---
Pat Simmons is a multi-published author with more than thirty-five titles. She is a self-proclaimed genealogy sleuth who is passionate about researching her ancestors and then casting them in starring roles in her novels. She is a three-time recipient of the Romance Slam Jam Emma Rodgers Award for Best Inspirational Romance. Pat holds a B.S. in mass communications from Emerson College in Boston, Massachusetts. She has worked in various positions in radio, television, and print media for more than twenty years. She oversaw media publicity for the annual RT Booklovers Conventions for fourteen years. In addition to researching her roots and sewing, she has been a featured speaker and workshop presenter at various venues across the country.
Pat has converted her sofa-strapped sports fanatical husband into an amateur travel agent, untrained bodyguard, GPS-guided chauffeur, and administrative assistant who is constantly on probation. They have a son and a daughter.
Praise For…
---
"Simmons balances the sadness of Alzheimer's with the heartwarming bonds of family and friendship, and the combination is sure to tug at readers' heartstrings." — Publishers Weekly

"Reading a Pat Simmons novel is a treat. I loved this book." — Vanessa Riley, bestselling author

"As wonderful as a warm embrace… Simmons' cleverly crafted characters slip into your heart from the first page." — Tina DeSalvo, Bestselling author

"Romantic, romantic, romantic—a great read, romance and story of family." — Lyn Cote, USA Today Bestselling author