Kitty's Story: From Feral Kitten to Reigning Housecat (Paperback)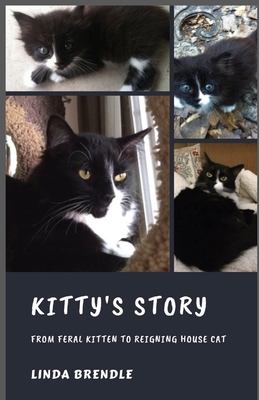 $9.99

Not in stock. Usually arrives in 2-5 Days
(This book cannot be returned.)
Description
---
A four-ounce ball of black and white fur walked out from under the porch of an unsuspecting couple who had no intention of having any pets, much less a house cat. Four years later, she has grown into a beautiful, thirteen-pound semi-longhair tuxedo cat who reigns supreme over the Brendle household.
At first, this tiny feral kitten was little more than a cute and amusing distraction from outdoor chores. But as she demanded to be fed and petted, she became more. She became the star of a weekly newspaper column - a favorite with both the writer and her readers. And she edged her way not only into the house but also into the hearts of the two people who came out to play with her and feed her every day.
Kitty now has her people wrapped around her little paw. She can be very good when she wants to be, but she doesn't always want to be. Still, she's always entertaining and endearing, so settle in for some fun and laughter, and be prepared to fall in love as you read Kitty's Story.